REVIEW: DaVinci IQ – High Tech, High Touch Vaporizer

The DaVinci IQ is a flower-focused vaporizer that combines high tech and high touch for a pleasant – and portable – vaporizing experience.
If you love vaping flower, there are quality flower vaporizers on the market. The DaVinci IQ is one of them.
I wasn't sure what to expect from the DaVinci IQ although a local smoke shop owner I know raves about DaVinci as a company, particularly their customer service. From my standpoint, any company with a good product and excellent customer service is miles ahead of a company with a great product and terrible customer service.
Want to know more about vaping? Check out our article Vaping 101.
As far as vaporizers go, I've tried a few so far and have my favorite (the Ario Vape), but I was willing to try something new. I'm an intermittent vaporer – if that's a term – meaning that I vape as needed to fall asleep, and stay asleep, at night or when I'm feeling highly stressed and need to unwind a few notches. I'm also more of a microdoser, so a few puffs usually provide me with the desired effect.
Here's what my experience was like with the DaVinci IQ.
Packaging Appeal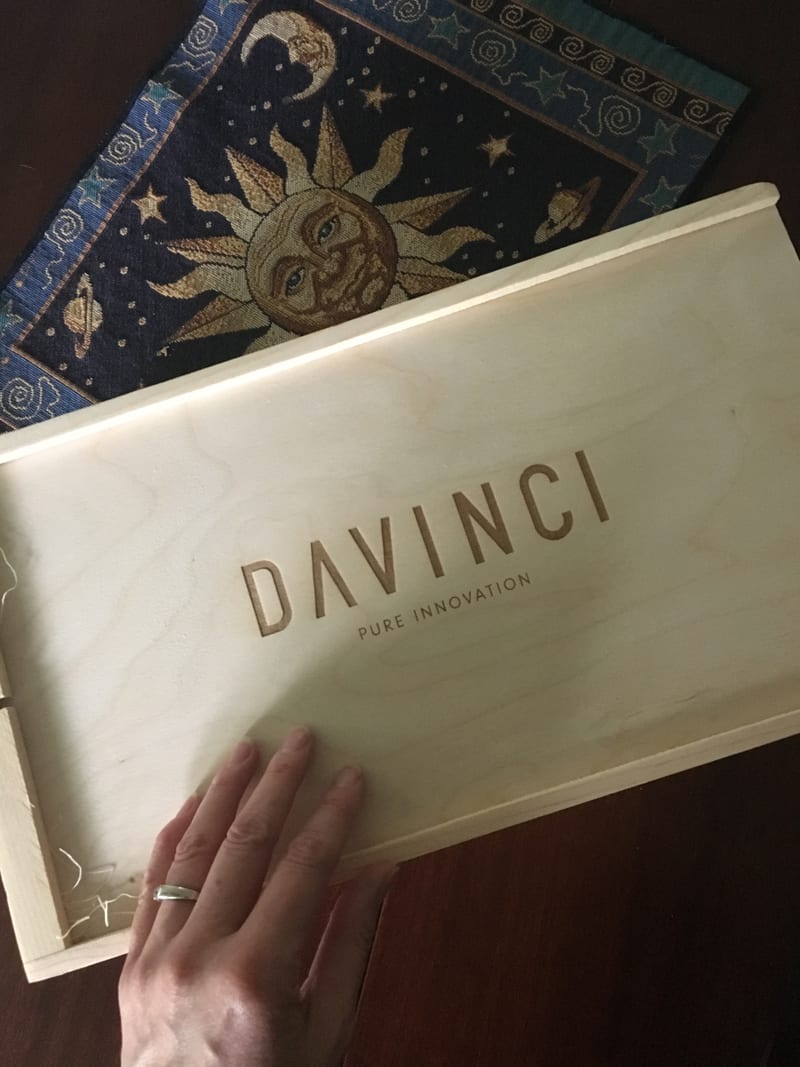 I have to say that I've never had an unboxing experience as jaw dropping as the one I had with the DaVinci IQ. I'm not sure if this is the same experience for consumers or just a special one for reviewers, but a big box arrived with a large wooden box inside.
Sliding open the lid revealed a box, a soft case, and a rubber bracelet.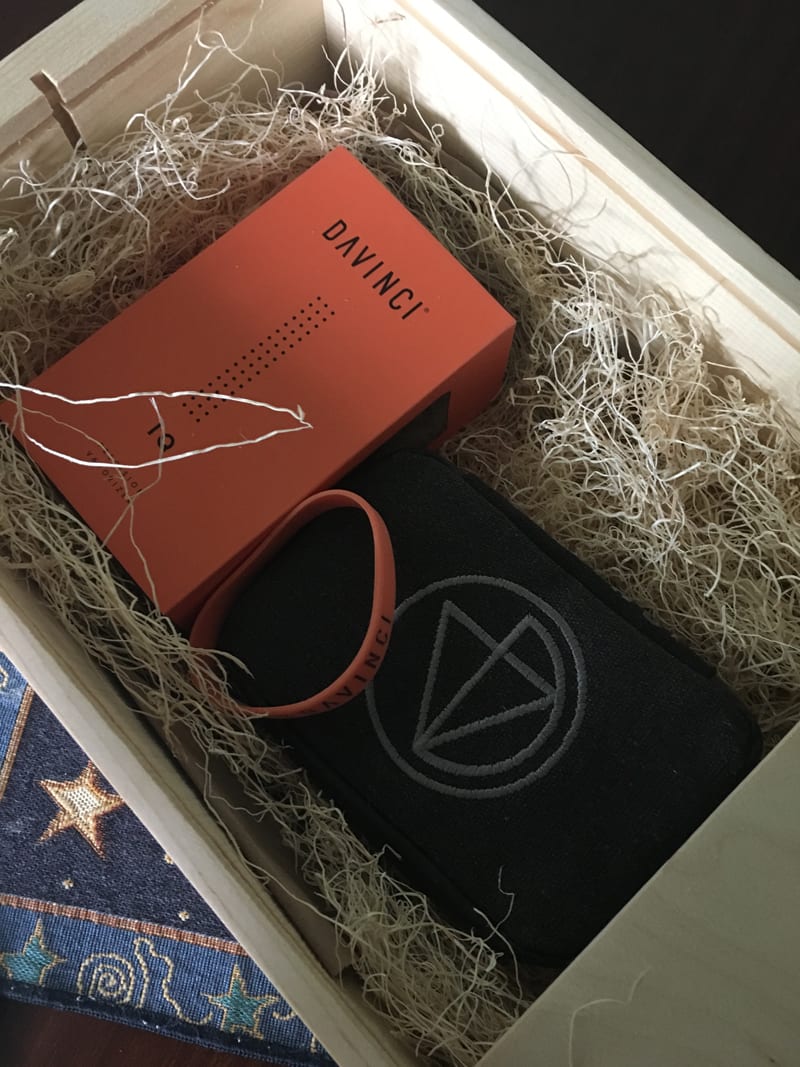 Inside the box was the DaVinci IQ, sleek and shiny metallic blue. Also included were a USB charging cable, a chimney brush and alcohol wipes, a Keychain Tool, a 10mm adapter, a convenient metallic blue Carry Can that unscrews and stores your ground stash. Overall, the entire presentation and packaging was beautiful.
Product Appeal
The DaVinci IQ feels smooth and sturdy without any extended parts that can fall or break off. The weight of it feels solid and heavy. Maybe a little too heavy for my preference, but I wasn't afraid I might break it, something I'm always afraid of when it comes to gadgets.
While the IQ felt good in my hand, it was a bit large to fit neatly and discretely into my palm. If discretion is key for you, you'll need bigger hands.
The dots on the face of the unit display LED lights that let you know when it is charging and that show you temperature settings that you can adjust with a button on the side. Five clicks and it turns on.
Quality of Instructions
Being a relative newbie, I followed the instructions provided in the box literally step by step.
Open bottom lid & fully load ground material, packing tightly before closing. Easy enough although I was grateful that my grinder comes with a funnel tip for much easier loading.
Click Control Button 5x & the IQ will power up in Smart Path Mode. Click once to switch heating modes or 5x to power off. I did get a little nervous when I read "Smart Path Mode." I was worried things might be getting a little to technical for me. Hey, I like my devices simple and intuitive.
Use up/down buttons to change Smart Paths or temperature, depending on mode. I opted for the temperature control and went to 388 degrees which is what I set my other vaporizer at to release linalool for relaxation and sleep. The temperature displayed in dotted lights on the face of the IQ, plain as day.
And the IQ was ready to try.
While the IQ felt good in my hand, it was a bit large to fit neatly and discretely into my palm. If discretion is key for you, you'll need bigger hands.
Getting Started
I have to admit that I looked for Step 4: Using the IQ because I suddenly check out the opening at the mouthpiece end and didn't know what to do next. Yes, I was supposed to put it to my mouth and inhale, but you try putting your mouth over the wide opening.
Was I supposed to wrap my lips all around the top of the device, somewhat pornographically? Or position it like a very wide top of a bottle as if I was going to drink it? Or press my lips over the top and suck in?
Flipping through the instruction booklet, I realized there was no diagram of exactly how to position one's mouth over the opening. The DaVinci website also doesn't contain a video tutorial showing someone putting the IQ to their mouth. So I tried it several different ways, feeling ridiculously inept. Finally, I perused other video reviews until I finally saw two things:
You can hold it to your mouth, press your lips against it, and suck in. This felt a bit awkward to me.
Or you can add the mouthpiece adapter that comes in a separate little box. Swap out the regular mouthpiece for a more narrow one that is more like a straw to suck on.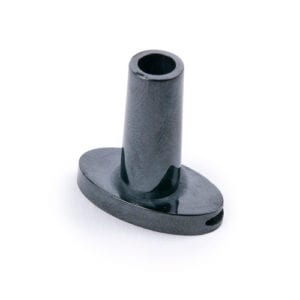 The IQ has a Ceramic Zirconia chamber that is very durable while giving you the same clean "flavor" as glass. When I finally was able to inhale vapor, I liked being able to taste the herb. Then I exhaled and was surprised to see so much thick vapor – not quite like smoke but not as light as I'm used to seeing. Often when I vape, I end up looking in the mirror to double check that I'm getting vapor. I feel the effects I'm seeking, but sometimes it feels like I'm just breathing in air.
With the DaVinci IQ, I could feel more going into my mouth, throat and lungs – not harsh, just more vapor. And the vapor that came out hung in the air. One thing I appreciate about vaping is that the smell usually doesn't linger long, but the DaVinci IQ let off some heavy, aromatic vapor that hung in the air for a while.
I asked the company rep about this, and here is the response:
Vapor density and production has a lot to do with what is being vaped so it can vary.
Also, it is dependent on four things:
Amount of herb used: more herb, more vapor.
Temperature: Higher Temp, more visible vapor but less flavor.
Pack: Tighter pack, more heat dispersion.
Dryness of herb: Perfect humidity is great.
Also, there are no air leaks in the IQ, so it creates dense vapor.
I especially appreciated tasting the herb – it gave more of a "mouth" experience than other vaporizers, like sipping a complex wine.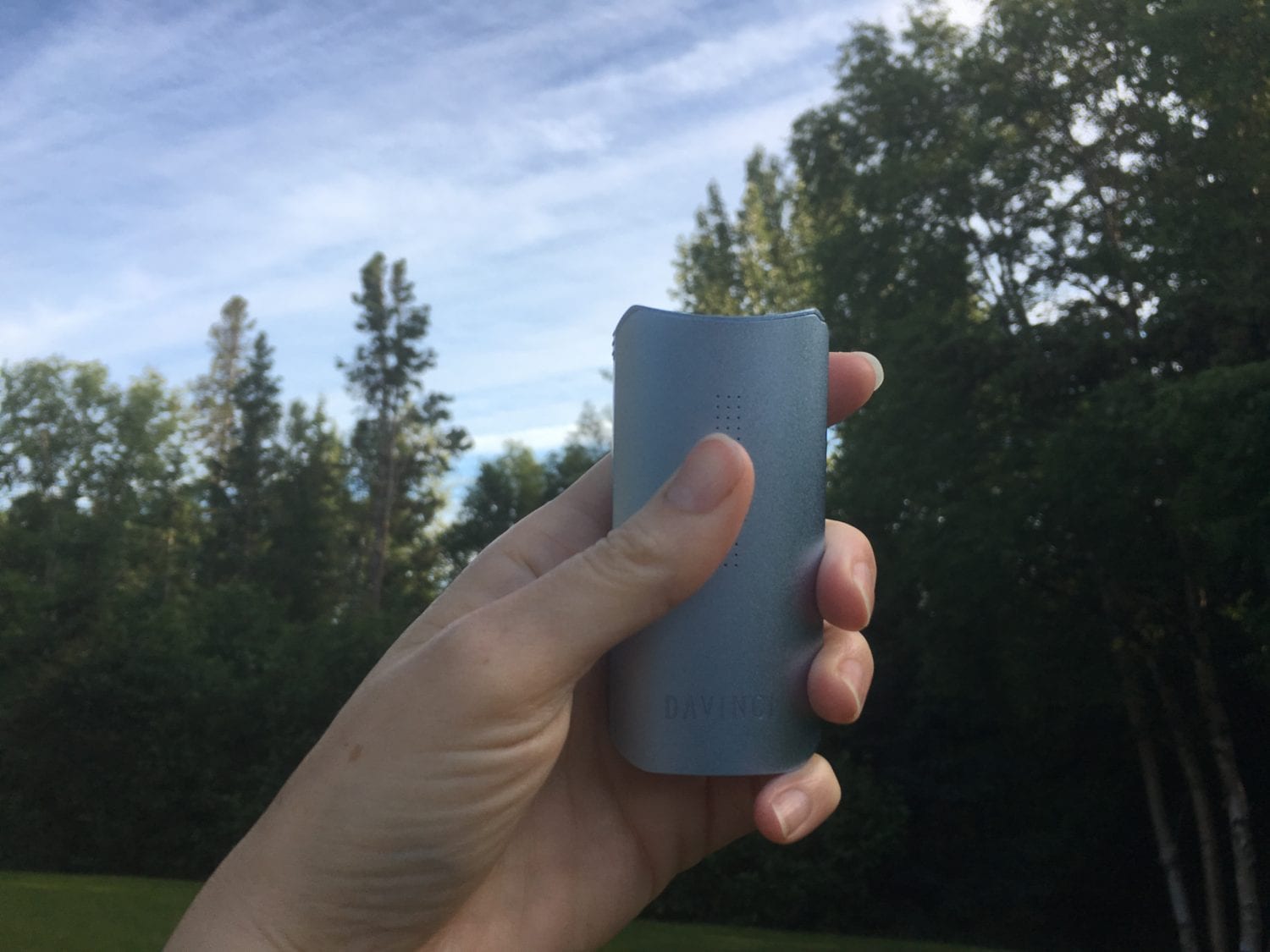 Portability & Discretion
Personally, I'm looking for very discrete, fitting perfectly in my (small) hand so I can close my entire hand over it. I'm also looking for light weight because if you saw my purse – or tried to pick it up – you know addition of extra weight can be a problem. I'm also looking for light vapor that dissipates quickly.
That said, the soft carrying case for the IQ is the perfect size, dimensions and easy to drop in my big purse without it getting lost.
And in Conclusion…
Overall, my experience using the DaVinci IQ was not unpleasant after the initial newbie confusion.
I especially appreciated tasting the herb – it gave more of a "mouth" experience than other vaporizers, like sipping a complex wine.
PS – The DaVinci IQ comes with an app. Usually, I'm a sucker for mobile apps and anything that integrates with my smartphone, but these days, I'm feeling a little overwhelmed and overloaded by tech, so I opted not to try out the app. With the app, you can toggle vibration alerts, go into "Stealth Mode" and and select your temperature unit. You can also customize various Smarth Paths to personalize your vaping experience using Bluetooth and easily get to the temperature or mode you'd like depending on your needs. You can also access the DaVinci's support portal to for help with the vaporizer and accessories.
Want us to review your product?
We review products, services, events and apps from a woman's POV. Then we share what we've experienced and learned with our global community of women. We also offer product testing, market research, and virtual focus group-like services. Get in touch to learn more! 
https://ellementa.com/wp-content/uploads/2018/07/IMG_2979.jpg
800
1067
Aliza Sherman
https://ellementa.com/wp-content/uploads/2019/04/Elleflower-Text-Right-Header.png
Aliza Sherman
2018-07-17 14:51:13
2018-07-20 15:50:40
REVIEW: DaVinci IQ – High Tech, High Touch Vaporizer