Women and Cannabis Wellness in New York City

I'm blown away. I don't know how else to express the power of the first Ellementa New York City Gathering.
First, the space was amazing. The Alchemist's Kitchen on 1st Street offers herbal remedies, botanical medicines, and whole plant tinctures along with other wellness products. The spirit of the space is testament to the people who work there, led with intention by Lou Sagar who welcomed the women in attendance.
Our co-host, The Bowery Cannabis Club, was represented by Micaela Foley, a practicing herbalist, who also works at The Alchemist's Kitchen. She invited members to join their group for additional events and resources about cannabis.
Our panel included Michaela as well as Pamela Hadfield, co-founder of HelloMD, the largest online community of health and wellness cannabis consumers and Rachel Schepart; RPh or PharmaCannis LLC, a licensed medical cannabis provider with four dispensaries and cultivation and manufacturing facilities in New York. I moderated the discussion and was joined by Sara Shapiro, the local Ellementa Organizer for New York City who found the venue and coordinated the event details.
Our friends at Levo were also on hand to display their LEVO kitchen appliance for infusing herbs in butter or oil at home, mess free. And the wonderful Erbanna provided four odor-free pouches as giveaways. In celebration of women's creativity, we invited Pussyweed to display their wares. We love supporting women-owned companies and initiatives!
Bringing together so many people and companies with similar missions is beyond powerful. It is pure magic.
Throughout the evening, our panelists were committed to providing solid information about cannabis for pain management. They also shared personal stories and recommended trusted resources.
Women in attendance eagerly sought a better understanding about the health benefits of cannabis. The moment questions began, they didn't stop until we were given the signal that it was time to wind down the evening's program.
When the program ended, many of the women immediately went to learn about and purchase products offered by The Alchemist's Kitchen. The room vibrated with excitement, and many of the women expressed their gratitude for what transpired.
The greatest reward in life is to connect with others on a deep and meaningful level. In a few short hours, we began making the connections that will only grow deeper over time.
Ellementa is not like anything else out there. Our events are women-only and non-consumption for very important reasons. We are women-only so we can create safe and welcoming spaces for women to speak openly about cannabis.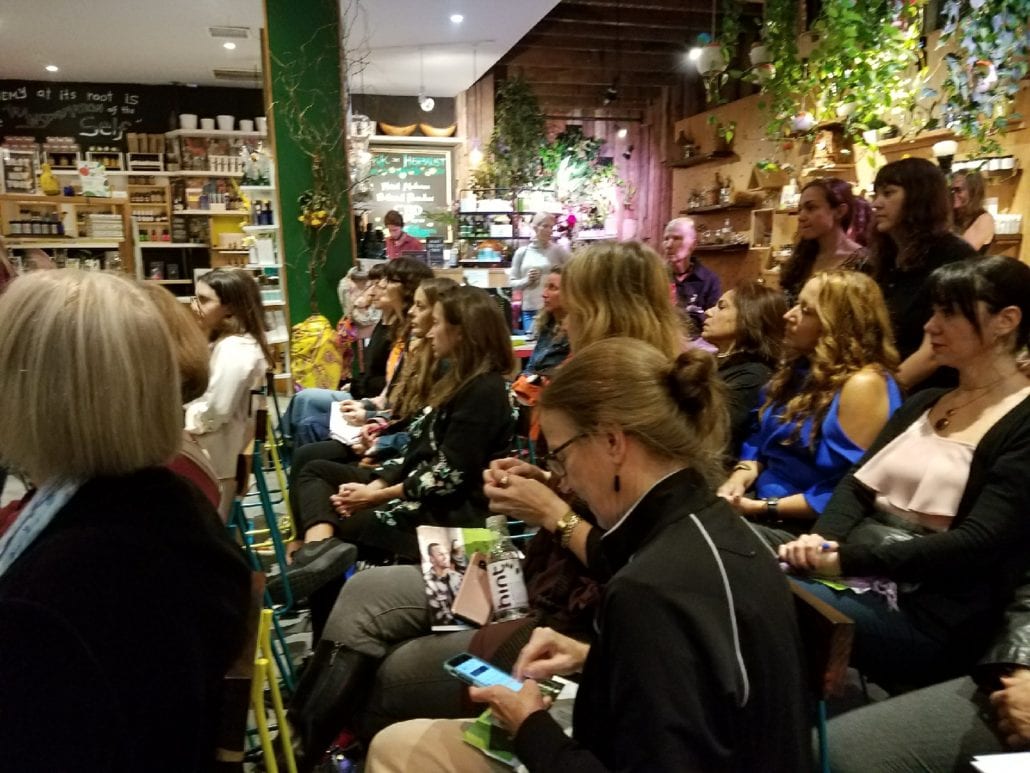 Many of the women we reach through Ellementa Gatherings still have the words "Just Say No" reverberating in their heads as they step tentatively into the room. By the time they leave, they are empowered with the knowledge that cannabis is not the "gateway drug" that we've all been taught over the years but an "exit drug," a plant that can produce healing medicine.
We create spaces for women where they can confess their fears, ask tough questions, share their stories, and connect with one another.
We hold non-consumption events so we can operate legally in all 50 states, in Canada and around the world. It is not illegal to speak openly about cannabis for health and wellness. By focusing on education, sharing knowledge, and conversations, we are able to reach more women at all levels of experience with cannabis. Women who are more familiar with cannabis become mentors and teachers to women who are seeking information.
At the New York City Gathering, one woman, Elana Frankel, shared her personal experience with a Traumatic Brain Injury (TBI), a fluke event on a girlfriend getaway that left her like a stroke victim, barely able to string words together and told that it could take complete brain rest to heal – meaning no activity, no lights, no reading, no screens – for up to three years!
Through the use of CBD (Cannabidiol, a compound in cannabis), Elana was able to get back on her feet – literally – in six months. Motivated by her experience, Elana formed Indigo and Haze to produce quality self-care products for personal wellness.
Elana is just one example of the kind of woman who comes to Ellementa events – smart, motivated, talented, and committed to living a fuller, more healthful life.
We're committed to bringing better information about cannabis to women through our online and offline forums and resources. Join us for launch events in Boston on Wednesday 11/8, Los Angeles on Saturday 11/18 and San Francisco on Sunday 11/19.
photos by Sara Shapiro
https://ellementa.com/wp-content/uploads/2017/10/Photo-Oct-27-3-35-07-PM.jpg
1080
1440
Aliza Sherman
https://ellementa.com/wp-content/uploads/2019/04/Elleflower-Text-Right-Header.png
Aliza Sherman
2017-10-28 17:43:37
2017-10-28 17:43:37
Women and Cannabis Wellness in New York City