We've put together a list of CBD products for women's sexual wellness and pleasure.
We've previously explored the sexual wellness benefits of THC in our Love Yourself With Cannabis: THC article. But not everyone has access to cannabis products with THC.
Before we tell you about the products, you should know that CBD doesn't provide the same effects as THC. CBD doesn't work on our internal cannabinoid receptors to provide pain relief or vasodilation (increasing blood flow). CBD is, however, known as an effective anti-inflammatory, a property that can be helpful in reducing certain pain during sexual intercourse or to promote post-coital relief and healing.
Important to Note: Most CBD products for vaginal use contain additional ingredients to promote blood flow or to act as natural analgesics to reduce pain or give the sensation of pain relief. Pay close attention to all other ingredients in these products to make sure you aren't allergic to them or to make sure they are appropriate for your personal health.
All of the following products are meant to be used topically or, if instructed, inserted vaginally.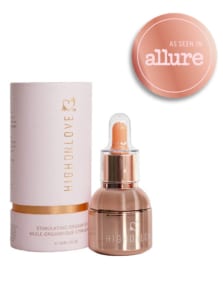 HighOnLove™ Stimulating Orgasm Oil
is made in small batches with "premium grade hemp seed oil" for lubrication and to increase blood flow. This all-natural oil addresses vaginal dryness and discomfort and decreased libido. Keep in mind that a lowered libido could be attributed to drops in estrogen post-menopause, so while a product like this can address sensation, it won't address underlying hormonal imbalances. The recommended use is 1-2 drops applied topically on the clitoral region.
NOTE: The CBD-infused products from this company are available in Canada while the version that can be shipped contains Hemp Seed Oil.
Ingredients:  Water (Aqua), Glycerine 99,5% (Glycerine Usp), Propylene Glycol, Polyquaternium, L-arginine Hcl, Hemp Seed Oil (Cannabis Sativa Seed Oil), Hydroxyethylcellulose, Dmdmh (Dmdm Hydantoin), Sodium Benzoate, Peppermint Oil (Mentha Piperetta Oil), Capsicum (Capsicum Oleo Resin), Vitamin E (Tocopheryl Acetate).
Tested? We haven't tested this yet, but we look forward to trying it soon.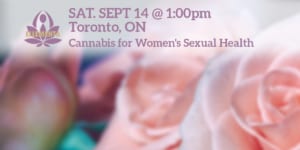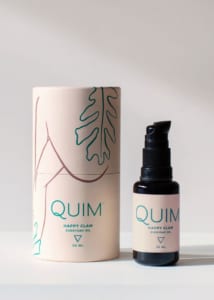 The company, Quim, specializes in products for vaginas with a focus on proactive vaginal health. They like to refer to their Happy Clam Everyday Oil as "eye cream for your vagina." What a concept! This CBD-infused oil is meant to moisturize and soothe and you can apply it after your bath or shower, before bed, after sex, or any other time you need some extra care and relief. Note the soothing oils. Calendula is known for its calming effects on skin irritations as well as antibacterial qualities. Damiana has been used historically as an aphrodisiac.
Ingredients: Apricot Oil, Hazelnut Oil, Sweet Almond Oil, MCT Oil, Calendula, Olive Oil, Damiana, Tea Tree Oil, Violet, Hemp CBD (Full Spectrum Hemp Flower Oil)
Tested? We haven't tested this yet, but we know the owner and like what she's doing!
Vaginal suppositories can be a more mess-free way of administering CBD and other products to promote vaginal wellness than oils, creams or sprays. The Triple Apex website claims that their suppositories last for up to three days and that you will "feel an increase in vaginal lubrication and tightness, resulting in naturally-enhanced sexual pleasure." Their formulation combines "botanical essence, natural Chinese herbs, and whole-plant extracts."
Saffron, or Fan Hong Hua, is said to help "tighten" the vagina. Sophora flavescens, or Ku Shen, is an antibacterial, as is Propolis, which is derived from bees. Sanquisorba root is another Chinese herb, but it is unclear how it is used vaginally. Colostrum is used to address thinning vaginal walls post-menopause. Each container holds 12 suppositories.
Ingredients: 300 mg of Saffron, 250 mg of sophora flavescens, 250 mg of Propolis, 300 mg of Sanguisorba root, 410 mg of colostrum, and less than 200 mg of Triple Apex's proprietary natural formula manufactured and produced in accordance with FDA guidelines. 
Tested? We haven't tested this yet, but we've got products on the way. We'll update when we have some feedback to share!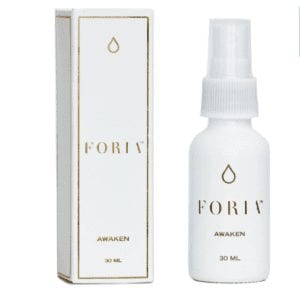 A "full-spectrum hemp oil" with eight plant-based aphrodisiacs and a chocolate and mint aroma, their website claims Foria Awaken "enhances tactile sensation and pleasure while decreasing tension, discomfort and dryness." The formulation includes herbs and spices to promote stimulation.
Ingredients: MCT Coconut oil, Full spectrum Hemp Oil, Whole-Plant Extracts (Kava Root, Hemp, Cinnamon, Ginger); Proprietary Oil Blend of Cardamom, Peppermint & Vanilla; Cacao Oil.
Tested? Yes! And this is a nice product to use but more for its pleasant scent than actual sensations. It is much more effective when used in combination with a THC product.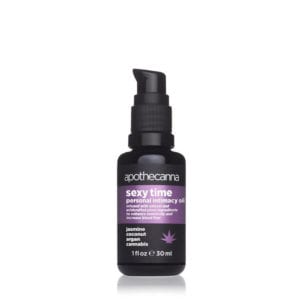 A plant-based glide that combines jasmine, argan, cannabis, and coconut. This product claims to "enhance sensitivity and increase blood flow." The instructions recommend using the product fifteen minutes before sex and suggests that you "massage lightly to neck, chest, and other erogenous zones." Neck and chest? Apparently, jasmine has been used for centuries to promote intimacy and enhance libido. Who knew?
Ingredients (key only): Jasmine, coconut, and argan. The website also says "Cannabis" but online reviews specify it contains only CBD and can be purchased online.
Tested? Not yet, but we'll let you know when we've tried it!
Have a CBD or THC product for sexual wellness or pleasure that you really like? Get in touch. We'd love to know about it – and to try it!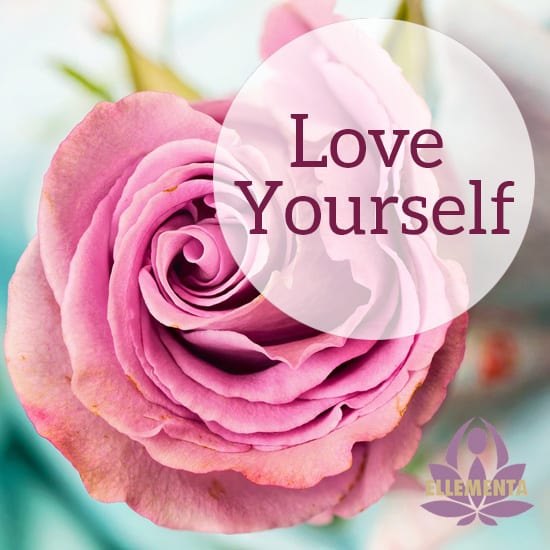 https://ellementa.com/wp-content/uploads/2019/02/rose-3142529_1280.jpg
880
1280
Ellementa Woman
https://ellementa.com/wp-content/uploads/2019/04/Elleflower-Text-Right-Header.png
Ellementa Woman
2019-09-10 10:00:50
2020-09-17 10:43:53
Love Yourself With CBD