18 Cannabis Gifts Every Mom Will Love

18 Cannabis Gifts Every Mom Will Love
These gift ideas from women- and family-owned small businesses in California are perfect for Mother's Day or any day!
We connected with an amazing array of women- and family-owned cannabis small businesses — including a couple of mother-daughter teams — to put together this special collection of gift ideas for wellness-seeking women.
But first, we want to give a special shout-out to those of you who are missing your moms. Mother's Day is a celebration of the important work of mothers everywhere, but it can sting for those of us whose moms aren't with us anymore. We feel you, we see you, we support you. These gift ideas are for you, too, or any woman you know.
Our intrepid product reviewers vetted each of the products below personally and can say, with confidence, that any gift from this list is a win-win: a loving way to show a mom you care, and a supportive way to show love for the cannabis plant and small businesses.
NOTE: These products are available at fine dispensaries in California only – but we hope they inspire you to seek out products from women-helmed cannabis companies in other legal states as well!
Green Bee Botanicals Skincare & Healing Topicals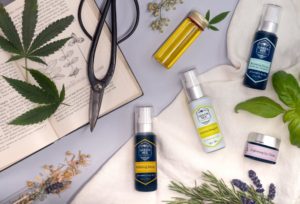 Led by childhood friends, Bridget May and Kim Howard, San Francisco-based Green Bee Botanicals makes award-winning, small-batch, luxurious skincare and topicals with nature's most healing plant: cannabis.
Even people intimately familiar with cannabis ask why anyone would put weed on their face.
"The cannabis plant is packed with skin-loving antioxidants, anti-inflammatories, vitamins, and minerals. The phytocannabinoids in cannabis do what no other skincare ingredients do: bind with receptors in your body's endocannabinoid system to keep skin healthy and balanced," explains Green Bee founder Bridget May, a botanist and former analytical chemist.
The results? Healthy, glowing skin from within — naturally, effectively, and safely.
1. Renewing Face Serum (Non-psychoactive)
Just announced as the First Place winner for Cosmetic Topical at the 2021 Emerald Cup, Green Bee's Renewing Serum is made with 98% organic ingredients, including blue tansy, basil, vitamin C, and full-spectrum CBD and THC. Formulated for normal-to-dry skin, this super moisturizing serum smooths the appearance of fine lines, lightens dark spots, balances skin tone, and protects against environmental damage. $55. Order online for delivery or pickup here.
2. Brightening Eye Cream (Non-psychoactive)
Green Bee's 2019 Emerald Cup-winning Brightening Eye Cream features full-spectrum CBD, THC, calendula, and caffeine to moisturize and protect, de-puff, brighten dark circles, and reduce the appearance of fine lines. Potent yet lightweight, it is concentrated with carefully selected phytonutrients that hydrate, but not irritate, our most delicate skin around the eyes. You can also use it on your chest (decolletage) and around your lips. $44. Order online for delivery or pickup here.
3. Deep Calm Body + Massage Oil (Non-psychoactive)
Named "Best Topical of the Year" by Lucky Box Club, Green Bee's Deep Calm Massage Oil is made with 99.5% organic ingredients, including olive oil, myrrh, frankincense, calendula, chamomile, lavender, comfrey, THC, and CBD. This surprisingly potent cannabis oil offers dual-purpose benefits. It soothes inflammation and irritation on the skin, including itchiness, extra-dry skin, eczema, psoriasis, rosacea, sunburn, bug bites, and minor scrapes. It also relieves pain under the skin, such as aching muscles, post-workout stiffness, sore joints, arthritis, and injuries. $38. Order online for delivery or pickup here.
Sweet Releaf Pain Relieving Body Butters & Dry Oils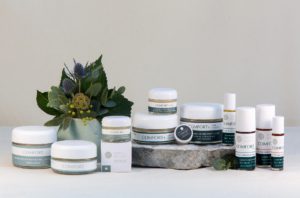 Mother-daughter team Didi Davis and Susanna Frohman of Sweet Releaf believe in the healing power of plants, specifically how the human endocannabinoid system communicates with the compounds found in cannabis. They call it 'Intelligent Medicine.'
Started in a grandmother's kitchen, Sweet Releaf marries Western science and Eastern holistic medicine to boost effectiveness. The company combines a high concentration of potent raw cannabis trichomes with pure cannabinoids and a proprietary combination of essential oils for pain. Their ingredients are naturally and organically sourced and their cannabis is sun-grown in the Emerald Triangle, tested repeatedly, and certified clean.
4. COMFORT Body Butter & COMFORT+ Extra Strength Body Butter
Sweet Releaf's founder Didi Davis says, "Speaking mom to mom, after a day of caring for my loved ones, I like to take a few minutes for myself to ease my stressed out spots. Fortunately, that's all it takes to relax a sore back or tense shoulder muscles using Sweet Releaf's COMFORT body butter. Goes on smoothly and smells refreshing. Or if I'm experiencing major soreness, I'll use COMFORT+ Extra Strength with a stronger THC count on more chronic, intense pain, like my newly arthritic hands."
5. COMFORT Warms Dry Oil
"For activities like hiking, biking, or beach days," Didi adds, "I take along the COMFORT WARMS Dry Oil roll-on formula – which just won a 2021 Emerald Cup award. It's easier to carry yet strong enough to help relieve most bruises, cuts, and scrapes."
To buy Sweet Releaf, find a location here.
Cosmic View Medicinals & Sweets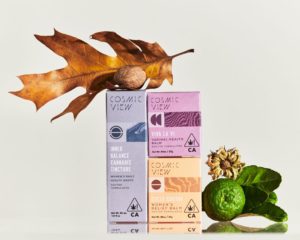 Cosmic View is led by mother and daughter Nicole and Dr. Christine Skibola, who are devoted to supporting small farms and the craft cannabis movement. They are committed to sourcing only the most holistic, pesticide- and solvent-free ingredients grown and processed with sustainable farming methods.
6. Inner Balance Women's Health Formula
A 5:1 acid-rich women's health formula made with Moon Made Farms flower rosin, this product is made with infusions of nettle, olive leaf, passionflower and cramp bark (some grown on their family farm). This multi-herb tincture contains immune boosting, mood lifting and anti-inflammatory properties that target a number of female health concerns.
7. Viva la V! Vaginal Health Balm
This 100% organic, doctor-formulated, CBD-infused vaginal moisturizing balm is formulated to replenish, rejuvenate, protect and repair intimate skin. This product is a wonderful addition to a self-care regimen to promote healthy vaginal tissue and moisture.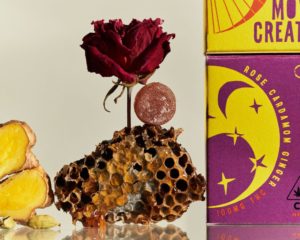 8. Cosmic View's new hard honey sweets.
Made with wildflower honey from their family farm, fresh herbs, strain-specific flower rosin, and pure plant essential oils. They're a celebration of craft regenerative cannabis, sustainable farming, and traditional herbalism — and they're delicious! Drop them in tea, melt them under your tongue for quick sublingual absorption, or savor them slowly to enjoy their delicate, refined flavors.
9. Suns – Coconut Lime Nutmeg
This low dose 1:1 honey sweet is infused with an invigorating sativa strain of flower rosin and CBD as well as complementary herbs Yerba Santa and Lemon Balm for an uplifting, energizing, yet focused effect.
10. Moons – Rose Cardamom Ginger
This THC dominant honey sweet is infused with a sedative strain of flower rosin, and the calming support of companion herbs Passionflower and Lemon Verbena. Enjoy as a confectionery treat or add to a cup of tea.
Garden Society Chocolates & Rosettes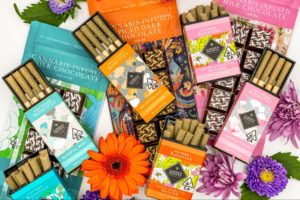 Garden Society is a wine country cannabis confections brand co-founded by two women and moms. Their hand-crafted cannabis pre-rolls and chocolates are made from responsibly sourced, sustainable ingredients.
Offering a full product line for all cannamoms, some of our favorites include:
11. For The Woman Who Needs More Sleep: Treat the mamas in your life to relax, unwind, and get a solid night's sleep with Garden Society's delicious milk chocolates with sea salt.
12. For The Woman Who Needs a Night Out: Garden Society's spiced dark chocolates with chili are the perfect mood lifting addition as you huddle your mom tribe.
13. For The Woman Who Needs a Good Calming Effect: Garden Society's High CBD Rosettes feature a classic cannabis strain grown for generations in California for its therapeutic feelings, the resulting effect is the calmness we know and love from CBD, amplified by a touch of THC.
Garden Society products are available at select dispensary and delivery partners throughout California.
Mellows Handcrafted Marshmallows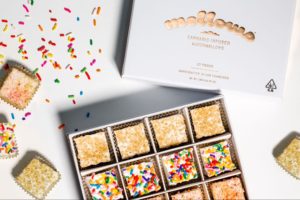 14. Box of 12 Marshmallows, Assorted Flavors
The finest in cannabis confections, Mellows are award-winning gourmet marshmallows, handcrafted in San Francisco since 2015. Mellows is a women- and minority-owned company with culinary roots that push them to make the best tasting, most delightful edibles possible. Their premium edibles are infused with full-spectrum, solventless ice water hash. The result is a superior feeling, euphoric, well-rounded effect.
Available in fun and nostalgic flavors like Birthday Cake, Strawberry Shortcake, and Brown Butter Sage, Mellows handcrafted marshmallows are a one-of-a-kind treat for everyone from the canna-curious to the discerning edibles connoisseur. Their original low-dose formulation clocks in at an approachable 5mg THC per piece, making them the perfect little indulgence for those moments when you just need to mellow out. Buy Now: Mellows Assorted 12pk
Where to buy: Find Mellows across California. Assorted 12pks are available in NorCal at: SAVA (Bay Area Delivery), California Street Cannabis Co (SF), Urbana (SF), Berner's on Haight (SF), Mission Organic (SF), Lytt (Pacifica), Synchronicity Holistic (Carmel) // SoCal: Calma (West Hollywood), The Higher Path (Sherman Oaks).
Kikoko Tinctures & Tea
Inspired by a friend with cancer who couldn't find reliable, low-dose cannabis products, Amanda Jones and Jennifer Chapin launched Kikoko in 2015. Their many cannabis-infused mints, teas, tinctures, and honey are made to provide a bevy of benefits, from sleep, calm, and focus to energy and play. Their brand is based around women being their authentic selves, speaking up, trying new things and living loudly and bravely.
15. Sympa-tea
Kikoko Sympa-tea is for all women who carry the weight of the world on their shoulders, mothering or otherwise. Formulated with a high dose of CBD with a low dose of THC, Sympa-tea induces muscle and mental relaxation, providing the perfect antidote to stress and anxiety relief. Paired with turmeric, ginger, and licorice root — all anti-inflammatory powerhouses. $44 for a can of 10 or $6 per single pouch.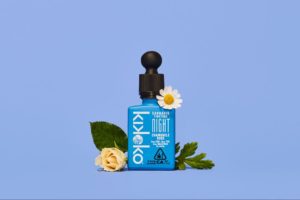 16. Night Tincture
Give the gift of a good night's sleep with Kikoko's Night Tincture, formulated with CBN (the drowsy cannabinoid), a hint of melatonin, and a lovely chamomile rose natural and sugar-free flavor. Kikoko's Night Tincture can ease you into a much deserved and sublime night sleep, waking refreshed and ready to take on a new day. $68.
Visit www.kikoko.com to locate a California dispensary nearest you.
OARA Chocolate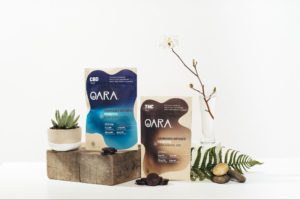 Legacy women-owned and operated, OARA Chocolate was launched in 2015 by Charlotte Burger Troy to heal the gut and support immunity and mental wellness through cannabis nutrition and science-backed probiotics.
17 & 18 PRobiotic Cannabis Chocolates
Treat a mom or woman you know (or yourself) with a 20-piece bag of one (or both) of OARA's Probiotic Cannabis Chocolates: They're made of delicious artisan dark chocolate for a rich, creamy taste that is never bitter, and both are 100% organic, low-sugar, vegan, gluten-free, dairy-free, and GMO-free for a guilt-free indulgence. Each chocolate is individually wrapped and micro-dosed for easy sharing and travel. Choose from CBD Rich with 8mg CBD and 1mg THC (non-psychoactive) and THC Rich with 5mg THC (psychoactive).
These two-time Emerald Cup-winning chocolates are made with full-spectrum cannabis oil from Sun+Earth certified regenerative California farms and the shelf-stable probiotic Bacillus coagulans, which improves digestion and immunity while reducing inflammation.
Order for delivery at https://www.getsava.com/brands/oara
As you can see, there is a wide selection of women-created and female-focused cannabis products that make beautiful gifts for a mom or woman you know. Don't hesitate to indulge in some of these yourself (if you're lucky enough to be in California). No matter where you are, we hope you'll support your local women-owned businesses!
https://ellementa.com/wp-content/uploads/2021/04/image2.jpg
1333
1999
Ellementa Woman
https://ellementa.com/wp-content/uploads/2019/04/Elleflower-Text-Right-Header.png
Ellementa Woman
2021-04-21 16:01:32
2022-08-29 14:24:44
18 Cannabis Gifts Every Mom Will Love