3 Really Delicious CBD Edibles

Not all CBD edibles taste good. Why is that?
Some CBD edibles you may have tried in the past probably had a strong chemical taste because of the way the CBD was "infused' into the product. Some manufacturers "spray" onto or inject the CBD into the food items after they are made, leaving a bitter aftertaste.
Why eat something infused with CBD? Taking CBD on a daily basis can be beneficial to your health, however, depending on the amount of CBD in the product you take, you are either taking a therapeutic dose or a supplemental one. While everyone's dose is different, 10mg to 30mg may be considered a lower dose or a nutritional supplement and 30mg to 50mg or more is often considered a therapeutic dose.
Finding a delicious CBD edible can be a challenge. Here are some of our favorite edible items with amazing taste profiles that also contain CBD.
Hands down, Pollen Gummies are the best CBD gummies we've ever tried, and trust us – we've tried a lot! Created by a co-founder of Smith & Sinclair, a British company that produces alcoholic gummies (yes, true story), Pollen's vegan gummies are exquisitely flavored with zero bad aftertaste.
While the amount of CBD remains the same in each product line – 10mg from full-spectrum hemp oil – the mouth-watering flavors vary depending on the other ingredients. Here's a breakdown. Each type comes in three flavor combinations:
Powerbank – Sour Cherry + Vanilla. Watermelon + Orange Zest. Coffee + Cacao. 27.8mg CBD
No Pressure – Pear + Turmeric. Berry + Peppercorn. Banana + Cinnamon. 27.8mg CBD
Soothe You – Grapefruit + Honey. Cherry + Orange. Strawberry + Citrus. 27.8mg CBD
Their products are third-party tested, and you can find the company's Certificates of Analysis on their website – a good sign that they take your health and their products seriously.
And did we say they're delicious? We can't emphasize this enough.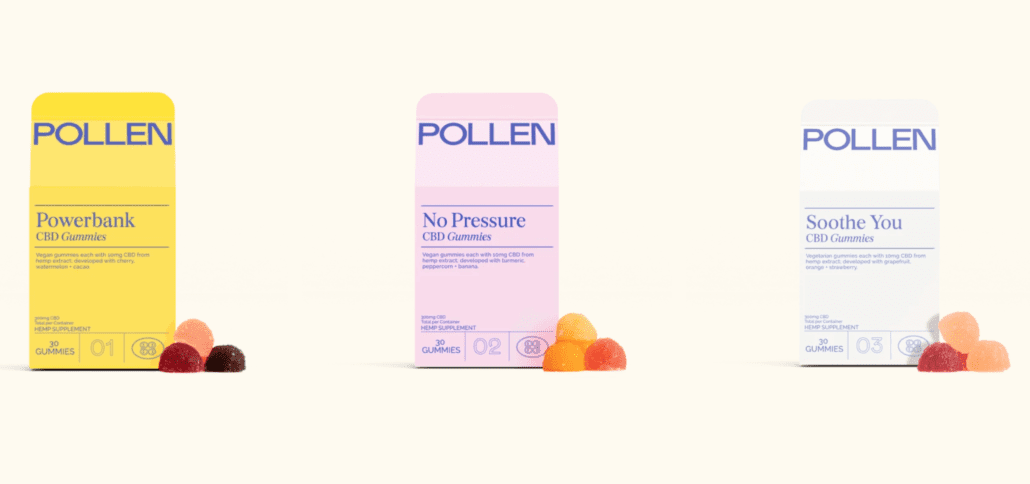 Speaking of delicious, when we were offered the chance to try the new Mello Sea Salted Caramels, we jumped at the chance. We've tried gummies, gelees, chocolates, hard candies, and mints but had yet to find a caramel infused with CBD.
These non-GMO, kosher, gluten-free and all-natural, old-fashioned creamy, chewy caramels are a taste sensation! The caramels come individually wrapped and contain 15mg of CBD. Here's the ingredient list:
Milk, Cream, Cane Sugar, Tapioca Syrup, Butter, Molasses, Sea Salt, Vanilla Extract, Salt, Pure Hemp derived CBD.
The taste is all caramel sweetness, and we're not kidding when we say they're creamy as well. The salt is coarse but used so sparingly as not to overpower your taste buds.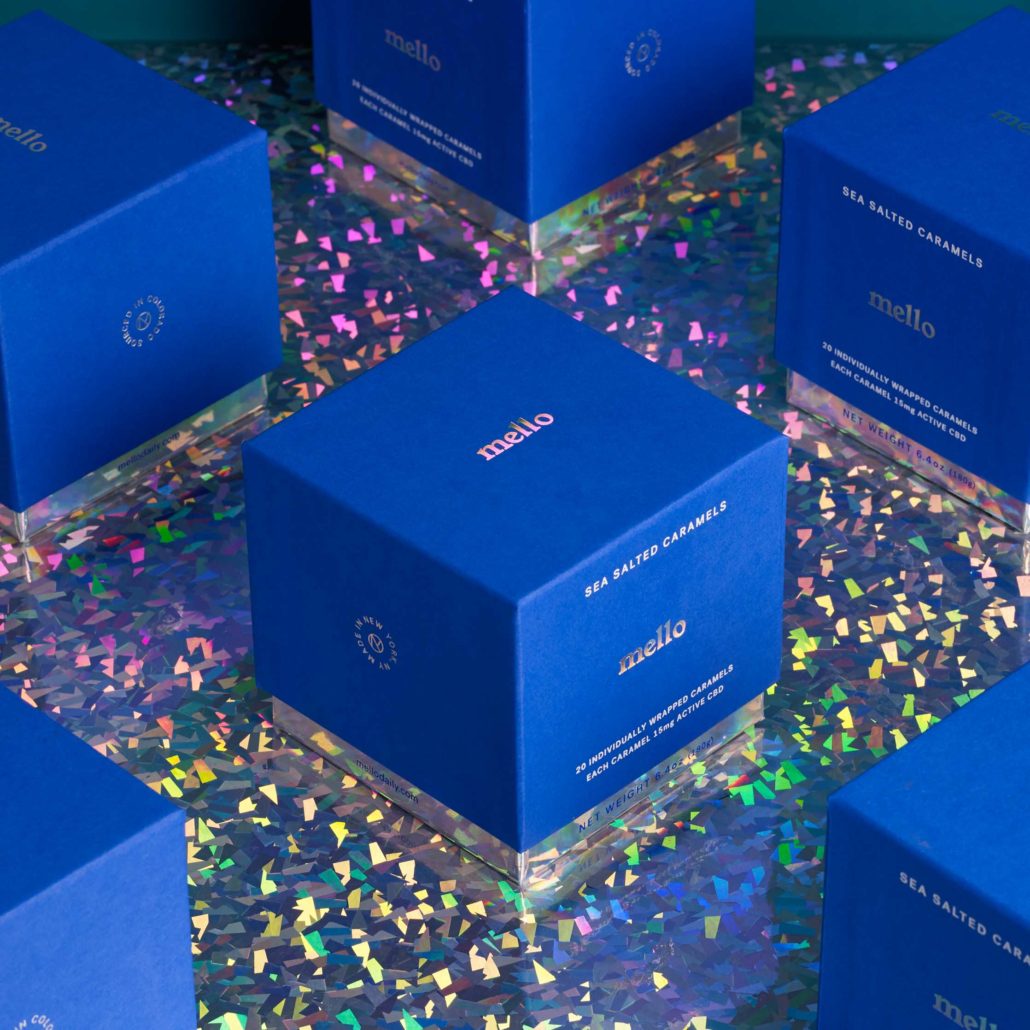 We've been fans of Vital Leaf products for a while now. Why? Because in addition to their company ethos of ethically sourced ingredients, they take care to avoid refined sugar and common allergens in what they produce and adhere to strict, third-party testing.
And of course, their products are so so good. In fact, we've been touting their Elixir Drops (tinctures) as the tastiest CBD oil drops we've ever tasted – EVER. (I favor the Chocolate Mint while my business partner, Melissa Pierce, is an avid fan of the Rose Cardamom Vanilla drops, which is perfect because we don't have to fight over who gets which flavor!)
But on to Vital Leaf Chocolates. We know there is CBD in these luscious chocolates, but we can't taste it! That's all well and good, but even better is these are actually amazing chocolates on every level. They come in three flavors to please any chocolate lover, no matter how discerning: Classic Dark, Hazelnut Sea Salt, and Quinoa Crunch.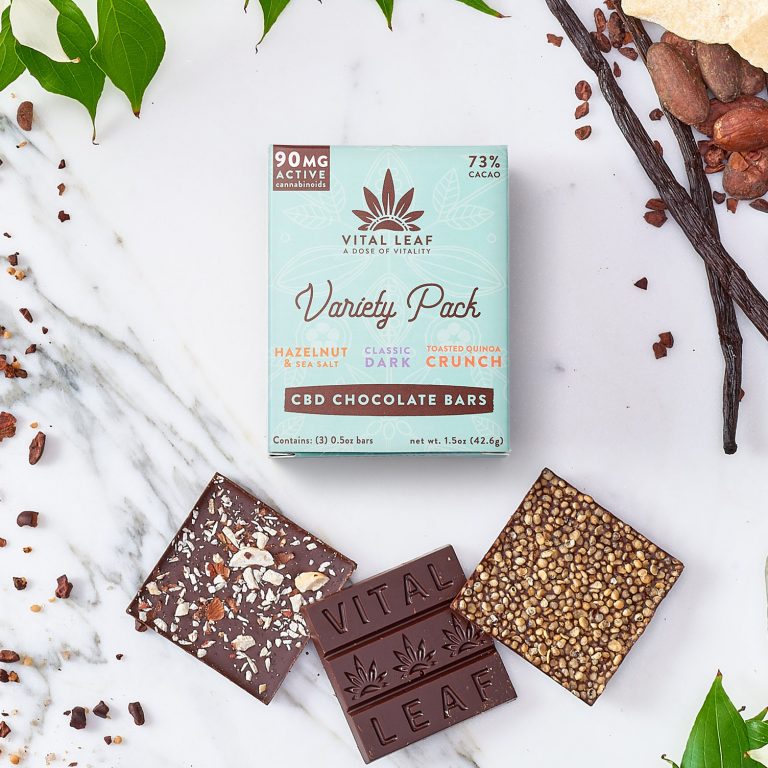 I happen to be a sucker for all things dark chocolate, and I've learned that cacao can mimic a cannabinoid. Research shows cacao can activate our ECS receptors, increasing our levels of anandamide – our "bliss" molecule. Could this be why so many women respond so passionately to dark chocolate? Seems logical to us.
Vital Leaf's Classic Dark is perfect for me. The mini chocolate bars contain 30mg of CBD each. The larger bars contain 100mg of CBD per bar. Keep that in mind when consuming. While we believe you can't have too much Vital Leaf-induced bliss, you could end up taking in too much CBD at once.
Every body is different, so start low and go slow. Starting with 5 to 10 mg of CBD is a good place to begin so cutting a CBD edible into half or fourths is our recommendation then increase the amount consumed over the course of week. Take care not to exceed your "right dose." Too much CBD could potentially cause some temporary gastrointestinal upset.
Not all CBD edibles are created equal. Don't suffer through a strange tasting product when you can get a high-quality, fantastic tasting one that you can thoroughly enjoy. BONUS: They ship across the U.S. (double check your own local laws before ordering).
DISCLAIMER: We are not making any medical recommendations. These reviews are based on anecdotal experiences. Consult your healthcare provider before taking any supplements or medicines, even herbs and plant medicine.
https://ellementa.com/wp-content/uploads/2020/06/icons8-team-NtwdMDylfTw-unsplash.jpg
668
1000
Aliza Sherman
https://ellementa.com/wp-content/uploads/2019/04/Elleflower-Text-Right-Header.png
Aliza Sherman
2020-06-17 09:06:41
2021-03-15 16:04:10
3 Really Delicious CBD Edibles