Doing the CBD Dosing Math


The Number One question we hear from people who want to start taking CBD is "how much should I take?" Dosing CBD can be confusing, but it's all about math and how your body responds to the CBD based on what your Endocannabinoid System needs. Here is how to do the CBD Dosing Math:

CBD oil-based tinctures are a common way to take in the cannabinoid. An oil-based tincture can be faster-acting than a tablet, capsule or edible, especially when the oil is held in the mouth and absorbed through the mouth's oral mucosa or the mucous membrane lining the inside of the mouth. Tinctures can partly bypass the digestive system. Having to digest a CBD product like an edible not only slows down the absorption of the CBD into the bloodstream, but also breaks it down, making it less available to your body and brain.
Tinctures can be easier to dose than smoking and vaping when you use a dropper with milliliter measurement markings. The strength of a CBD tincture is determined by its concentration. The concentration of a product is the bigger number typically on the front of a tincture bottle measured in milligrams  – like 300mg or 500mg or more. Some confusion on dosing can come in when you need to convert the  milligrams noted on packaging into milliliters as marked on a dropper or vice versa.
Companies producing CBD differ in how they explain dosing. Rational Hemp, a New York-based hemp CBD company, includes a handy card with their product titled "CBD Math" that explains the strength of their products in easy-to-understand terms:
We offer one product in two sizes – 2400mg of CBD in a 30ml/1 ounce bottle and 1200mg of CBD in a 15ml/.5ounce bottle.
Most of our competitors dilute their CBD oil from 2400mg down to 1500mg, 1000mg and even as low as 300mg in a 30ml/1 ounce bottle.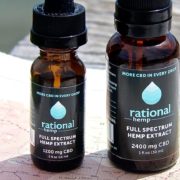 Rational Hemp goes on to say that their high-quality, high-density product retails for under 4 cents per milligram while companies that dilute their CBD tinctures can range in price from eight to 17 cents per milligram.
So how does this math work? Say that you are taking CBD on a daily basis and ingest about 20mg per day depending on your needs. If you are using a 300mg bottle – a concentration that is commonly available –  you would need to ingest two droppers full (2ml) to get a 20mg dose. That translates to 15 doses in each bottle. If you're using a tincture like Rational Hemp's 2400mg product, you would only need to take a quarter of a dropper to get 20mg of CBD with 120 doses in the same sized bottle.
In the book, Cannabis and CBD for Health and Wellness by Ellementa co-founder, Aliza Sherman and cannabis physician, Dr. June Chin, the authors provide some guidelines for dosing CBD. Similar to the THC advice to "start low and go slow," they point to a starting dose of about 15 to 20 milligrams that can be increased relatively quickly, as needed, at about five milligrams at a time. With regular CBD consumption or at higher doses, watch out for symptoms of stomach upset or diarrhea signaling you may be taking in too much at once.
When it comes to dosing CBD, concentration of the CBD product matters. Using a CBD tincture with a higher concentration means you get more out of less product – a little will go a long way. Using a more concentrated product gives you the ability to more easily get to higher doses if you need them without having to consume uncomfortable amounts of a product. Read the labels on CBD product packaging to know what you're taking.
This post was brought to you by Rational Hemp.
Rational Hemp is a woman run company that's goal is to make our FULL SPECTRUM HEMP EXTRACT affordable and accessible to as many as possible while sourcing and testing the highest quality and purest whole plant Hemp Extract with a full range of terpenes and cannabinoids.

https://ellementa.com/wp-content/uploads/2021/01/kelly-sikkema-raaOq1ZZgnc-unsplash-scaled.jpg
1334
2000
Melissa Fierce
https://ellementa.com/wp-content/uploads/2019/04/Elleflower-Text-Right-Header.png
Melissa Fierce
2021-01-25 08:50:51
2021-05-18 09:06:09
Doing the CBD Dosing Math