Cannabis, Women and Painful Sex

Sex can be painful for women. There, we've said it. Now let's talk about natural ways to deal with it.
We've all heard that women experience vaginal dryness after menopause, but what some of us on the Ellementa team have experienced goes way beyond a moisture-free environment.
"It feels like jagged razor blades slicing me up inside during penetration," she said.
"It's like having little elves with knives inside my vagina, cutting away."
That is what we were hearing around our virtual water cooler when the topic of menopause and sex came up.
Being on a mission to help women better understand the health and wellness benefits of cannabis and CBD, one of our intrepid founders decided to try cannabis and CBD products to address unpleasant symptoms from menopause. She confessed that for the past year she had been experiencing mind-blowing pain that put a damper on any possibility of mind-blowing sex.
"Here I was telling women how beneficial cannabis and CBD can be for our health, and I wasn't addressing a very real health and wellness issue of my own," she said.
One evening, she decided to try some of the sample products she had received to review. And they worked!
Here is the recipe for relief that she found useful:
Use a natural vaginal lubricant daily. Many women don't realize you can apply lubricants daily, particularly after a shower or bath, inside your vagina. We're not talking about drowning your vagina in oil but applying it internally using a small amount on your finger. Organic coconut oil can be a natural vaginal lubricant, and can be used intra-vaginally if you're not allergic to coconut. Other fast-absorbing oils include Jojoba and Sweet Almond.
Use a THC-based sexual lubricant or topical 20-30 minutes before sex. Note that many of the THC-infused sexual aids may not be very lubricating but are more warming as well as offering the analgesic effects of THC. THC shouldn't actually numb the vaginal area but instead reduce the sensation of pain while increasing blood flow to the vagina.
Add a CBD-based lubricant. Our intrepid team member tried a sample packet of Privy Peach's Personal Lubricant with 250mg CBD. The product claims to "help stimulate your body's own lubrication, increase circulation, and alleviate any present discomfort." Note: NOT FOR USE WITH LATEX CONDOMS as any oil may degrade latex.
The results? Nearly pain-free penetration, and definitely pain-free, awesome sex.
This information was a revelation for another one of our founders who went into surgical menopause after a hysterectomy.
"I was just so unprepared for menopause," she said. "I had no idea my sex life would end, and that I'd have my own private desert."
As with many other women, she hadn't looked up THC- or CBD-infused sexual products.
"I'm always taking care of everybody else," she admitted but vowed to search her market for the right products to relaunch her sex life.
It's Not Just Older Women Experiencing Painful Sex
"I personally faced quite the battle with my vagina the minute I started having sex," Cyo Ray Nystrom, the founder and CEO of QuimRock, recalls. "I've had years of awful UTIs, forcing me to take intense rounds of antibiotics that, in turn, killed off all the natural vaginal flora and caused yeast infections. It affected my life and sex life greatly as vaginal health is such an important part of intimacy and sex for so many people."
QuimRock is a cannabis-infused self-care line for women's intimate care.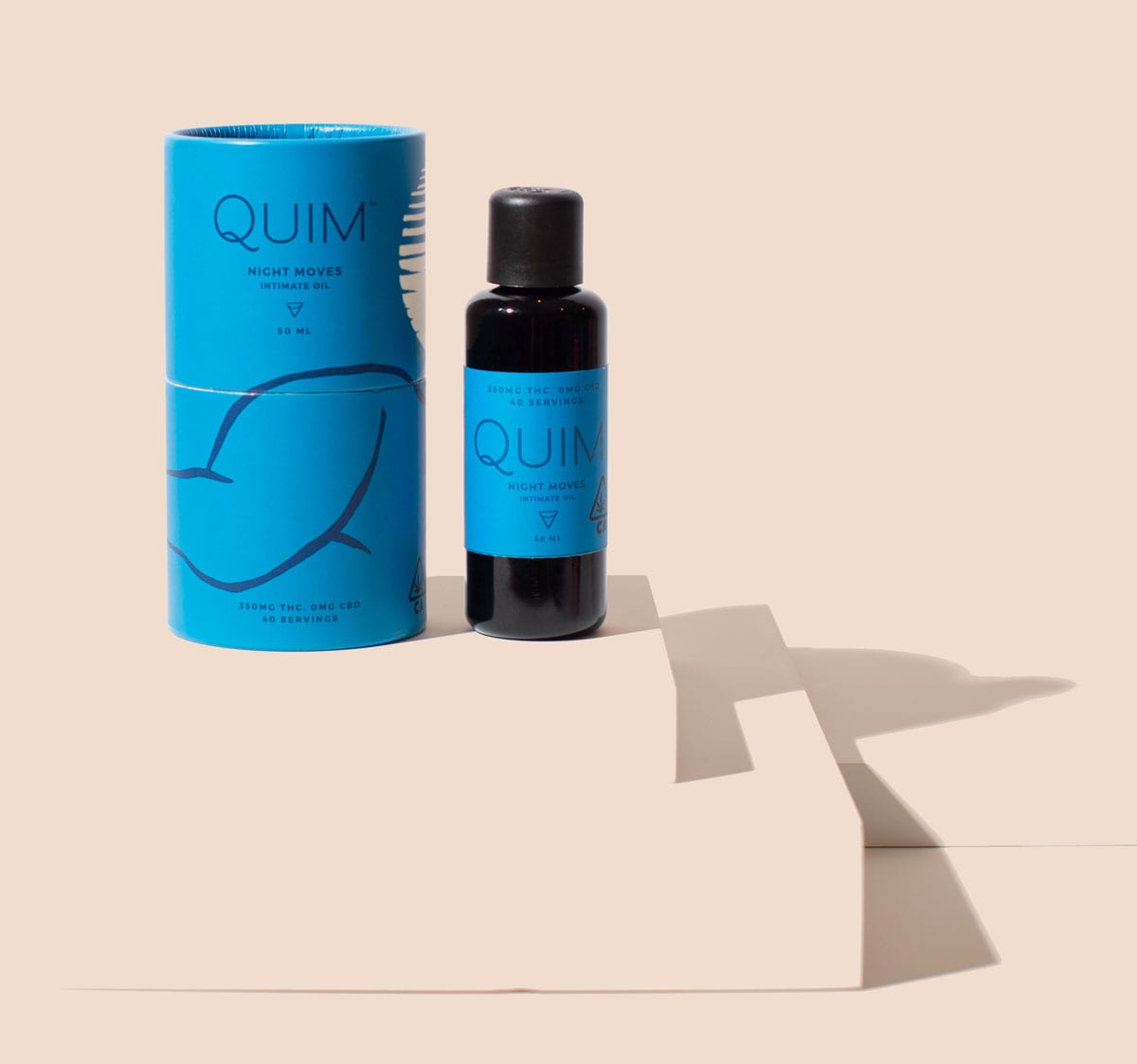 Cyo says cannabis can be "powerful sex-medicine for anyone using it intentionally and with her own personal needs in mind." She also notes that the shame that's historically associated with vaginal health issues, including those related to menopause, can be "particularly scarring."
"Personally, cannabis has always been a great tool for getting me into my body, which is essential for me to really show up in my sex life," Cyo explains, adding, "Cannabis has helped me in many ways—from cramp relief after getting a UTI to pain relief-focused topicals to the amazing benefits of cannabis-infused lubricants."
What Does a Medical Expert Say About Cannabis to Relieve Painful Sex?
One of our Ellementa Advisors, Dr. Elaine Burns is the founder and medical director of Southwest Medical Marijuana Evaluation Center and founder of DrBurns' ReLeaf tetrahydrocannabinol (THC) and cannabidiol (CBD) products. Dr. Burns was working with bio-identical hormones for women before she entered the cannabis industry seven years ago. We asked her about cannabis and specifically CBD for women's sexual health during peri-menopause and post-menopause.
According to Dr. Burns, menopause is a "multifactorial issue," meaning no woman can expect that what worked for someone else will work for them, too. She also emphasized that cannabis is only part of an overall health-care plan that could include botanicals (such as black cohosh, evening primrose and chamomile) for women before menopause or bio-identicals—non-synthetic, all-natural hormone replacements—for women no longer experiencing menses. She told us she would never solely recommend cannabis or CBD to relieve menopausal symptoms.
THC, by the way, can also be helpful with low libido and stress related sexual dysfunction. Dr. Burns reminded us there are two parts of support during menopause:
Relief from unpleasant symptoms ranging from vaginal dryness to hot flashes to painful sex.
Prevention of diseases such as osteoporosis.
Depending on your health goals, cannabis—and specifically CBD—can be integrated into your overall care plan to alleviate specific menopause symptoms and also help with general good health as you age.
As Cyo from QuimRock explains, "It's hugely important to figure out what turns you on and what turns you off." And that takes time and trying different things. Just as menopause is a journey, so is naturally addressing your sexual health with botanicals like cannabis."
How has cannabis and CBD helped YOU on your sexual health journey? 
https://ellementa.com/wp-content/uploads/2019/01/arid-1854103_1280.jpg
853
1280
Ellementa Woman
https://ellementa.com/wp-content/uploads/2019/04/Elleflower-Text-Right-Header.png
Ellementa Woman
2019-01-03 15:54:18
2021-03-17 10:33:34
Cannabis, Women and Painful Sex