Love Yourself With Cannabis: THC

"Weed lubes" are cannabis-infused sensual aids that are enhancing sex and bringing relief to women, particularly during peri-menopause and menopause. But where do you get them?
"Weed lubes" – lubricants or sprays – are THC- or CBD-infused topical products that are applied either to the surface of or inside the vagina. THC is absorbed through vaginal mucous membranes of the vagina, and technically should not make you feel "high." Instead, intra-vaginally applied THC relaxes the lower portion of your body, increasing blood flow to all parts of your vagina.
When it comes to sexual pleasure, blood flow to your nether regions is key.
How can cannabis lubricants help with women's sexual health and wellbeing?
Anecdotally, women say cannabis:
reduces their stress that, in turn, can facilitate more pleasure.

enhances their creativity, which could translate to a willingness to try new things.

lowers their inhibitions to get them "out of their head."

increases hormonal production that could "open up" emotions such as passion.

eases discomfort and pain, particular during and post menopause.

enhances physical sensitivity and sensation and potentially increasing orgasms or orgasm intensity.
Safety Note: If you are using an oil-based lube, they are not compatible with latex or polyisoprene condoms and can degrade any rubber-based sexual aids or accessories. While no substance introduced with condoms is 100% safe for the integrity of the condom material, some product websites claim they should be okay to use with lambskin, polyurethane, or nitrile condoms. Be aware and careful when using any lubricant with any condom other than what comes on the condom itself.
If the lube you're considering has THC, you most likely will not find it beyond a single state, possibly two, depending on how the manufacturer is licensed. In California, you can purchase THC products through delivery services like Sava in the Bay Area. In other markets where delivery of THC products is not legal, you can find many of them in local licensed cannabis dispensaries.
Below is a breakdown of where you can obtain some of the most well-known THC lubes on the market today.
AVAILABLE IN CALIFORNIA
In California, you can get this product through delivery services like Sava in the Bay Area.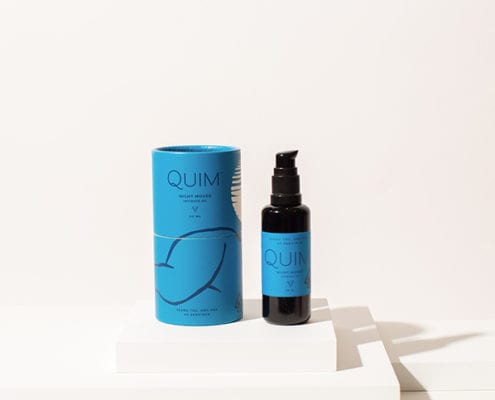 The Quim Rock intimate oils comes in two versions: Night Moves is not latex safe and Oh Yes! is a latex-safe serum, and both are "specifically designed to intensify climax, enhance sensation, increase libido, and serve as a vaginal health supplement."
Recommendations for Night Moves: 8-10 pumps applied 20 minutes before sex.
Recommendations for Oh Yes!: 4-6 pumps applied 5-7 minutes before sex.
Night Moves Ingredients: MCT Oil, Cannabis, Tea Tree Oil, Damiana
Oh Yes! Ingredients: Aloe Barbadensis Leaf Juice, Sclerotium Gum (mushroom-based), Plant Derived Emulsifier, Sunflower Oil, Gluconolactone, Cannabis, Mixed Phospholipids, Sodium Benzoate, Vitamin C, Vitamin E
In California, you can get this product through delivery services like Sava in the Bay Area.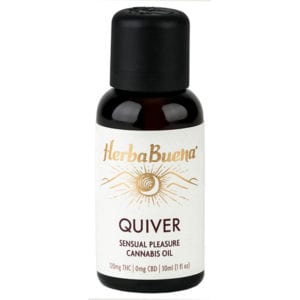 According to HerbaBuena's website, Quiver "heightens awareness, lubrication and feel-good sensation." It is also "formulated to enhance arousal, extend orgasm, and ease menstrual cramps, it can also be used daily to tone soft tissue Plus it is safe to eat…!
A 2-ounce bottle contains 84mg of THC. Recommends 2 pumps to start equaling about 4mg of THC.
Ingredients: Coconut oil,* cannabis, a whisper of vanilla,* black pepper,* cinnamon,* and clove.*
*organic
In California, you can get this product through delivery services like Sava in the Bay Area.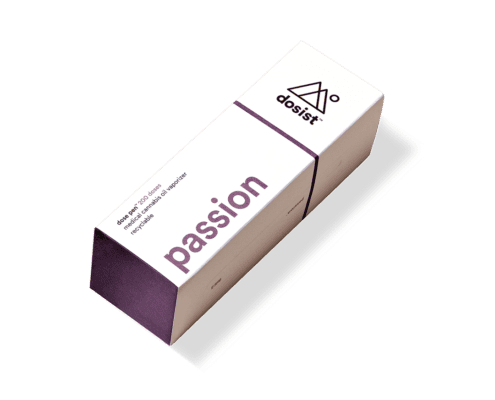 The Dosist disposal vape pen contains a ratio of 11:1 THC-to-CBD. The blend contains the terpenes myrcene and limonene and promises users "a euphoric feeling designed to increase sensuality and heighten your sexual experience." According to the dosist website, their pre-filled "dose pen™ ensures a precise dose every time." They also emphasize that their pens deliver a consistent, contaminant-free dose.
Ingredients: While their website doesn't list specific ingredients, it does give a general breakdown of their THC-forward formula including 88% Cannabinoids and 12% Terpenes: THC, CBD and "Accessory cannabinoids" or smaller amounts of Myrcene, β-caryophyllene, Limonene, α-humulene, and a-terpineol.
AVAILABLE IN CALIFORNIA & COLORADO
Referred to as a "Natural Arousal Lube with THC," Foria Pleasure is said to enhance "tactile sensations while decreasing tension, discomfort and dryness." Foria clients report "enhanced access to orgasm and deeper orgasms."

Ingredients: Sun-grown cannabis, and according to the website it is "independently-tested for purity: free of pesticides, heavy metals, microbes and other toxins." 100% Natural & Organic Ingredients. INGREDIENTS: Organic MCT Coconut oil, Full spectrum Hemp Oil, Whole-Plant Extracts (Kava Root, Organic Cinnamon, Organic Ginger); Proprietary Oil Blend of Organic Cardamom, Organic Peppermint, Organic Vanilla & Cacao Oil.
FORIA Explore is a cannabis suppository promoted as "sensual enhancement and comfort during anal play." Explore delivers 60 mg of THC and 10 mg of CBD to "so you can experience muscle-relaxation and enhanced pleasure without the strong psychoactive effect traditionally associated with cannabis."
Ingredients: Fair Trade Organic Cocoa Butter, 30 mg of Purified THC from Organically Grown Cannabis, 20 mg of CBD Isolate from Organically Grown Hemp and Sunflower Lecithin.
AVAILABLE IN CALIFORNIA & WASHINGTON
Velvet Swing is a water-soluble cannabis lubricant that contains both THC and CBD, a custom terpene blend, and the tagline "Better Orgasms." The website claims this topical can "improve blood flow, sensation, and orgasmic potential" and that it is "compatible with all safer sex supplies and toys including latex, polyisoprene, and silicone."
Recommended that you try 2-5 pumps at the beginning of sexual activity or even sooner and to wait at least 20 minutes for it to absorb.
Ingredients: 100mg THC / 33mg CBD; Purified Water, Gum Acacia, Xanthan Gum, Aloe Vera, Allantoin, Stevia, Ascorbic Acid, Gluconic Acid, Sodium Benzoate, Medium Chain Triglycerides, Sucrose Acetate Isobutyrate, Potassium Sorbate, Natural Terpenes, Cannabis Extract
AVAILABLE IN OREGON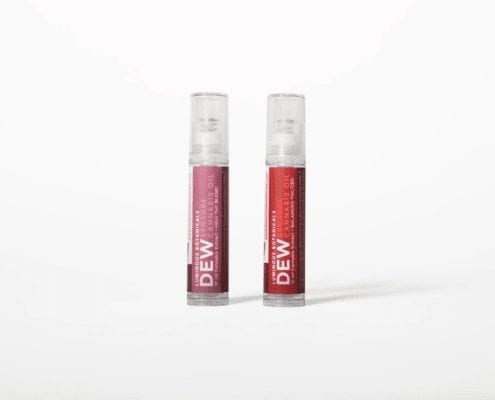 When applied as a sensual lubricant, the original High THC blend of Luminous Botanicals DEW enhances sensitivity, while the Balanced THC/CBD blend reduces discomfort. DEW is made with all organic, food-grade ingredients, including Clean Green Certified cannabis.
Ingredients: cannabis, organic almond oil, organic coconut oil, natural flavors.
AVAILABLE IN ALASKA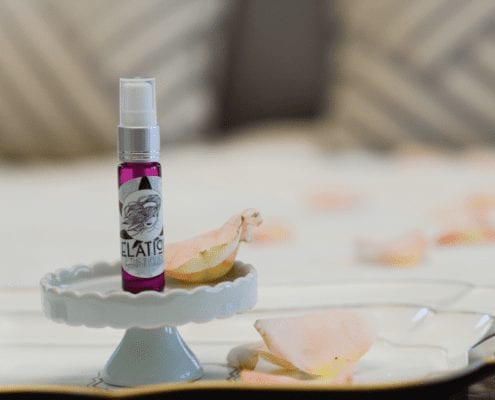 Woman-owned Lady Gray Medibles uses high grade organic coconut oil in Elation "because of its natural PH balancing and anti microbial properties." According to their website, 10 sprays of this product equals approximately 5mg of THC.  They mention that some say "THC dilates the capillaries and increases blood flow in the smallest blood vessels which enhances microcirculation and magnifies sensitivity and sensation." Instructions are to allow 20 minutes to an hour for activation. Customers report "localized sensation of pleasure" and "more intense, longer lasting and easily repeating sexual peaks." Bonus: Your vagina will not smell like cannabis! Their site does warn that the THC "could possibly show up in your partners drug test if it enters their blood stream."
Ingredients: No ingredient information is available on their website.
The Bare Spray personal lubricant was the first THC lube on the market in Alaska and was classified as an edible so it can be ingested in addition to being applied topically. Bare Spray is made with organic, fractionated coconut oil, essential oils, and cannabis oil concentrate derived using CO2 extraction "with flower containing zero chemical pesticides and no hydrocarbons." Safe to ingest – and, in fact, the formula was approved by the state's marijuana control board as an edible. 5 pumps equals 5mg of THC.
Ingredients: Organic Coconut Oil, Supercritical C02-Extracted, Solvent-Free Cannabis Oil. Product may contain 1ml of the following Essential Oils: Bergamot, Ylang Ylang, Lavender, Clary Sage, Rose, Cinnamon Leaf, Sweet Orange, Sandalwood, Neroli, and Jasmine. Contains Cannabis.
Tips for Experiencing
Test Topicals First
When applying topicals, review the ingredients on the packaging carefully to ensure you aren't allergic to any of them. Some may be unfamiliar – and cannabis may be an ingredient you haven't applied topically before – so start with applying to a small area first to check for any adverse reactions. A good area to test is on your inner arm before applying to vaginal tissue. Check for swelling, redness, itching or burning. It can take up to 24 hours to react. Do not use any further if you experience an adverse reaction.
Start Low
If you are trying edibles or other ingestibles such as teas, use the rule: Start Low and Go Slow. Edibles take time to process through your digestive system and liver so don't get impatient and consume more thinking you didn't take enough. Tea and other liquids may take effect sooner than edibles. Depending on the dose, the effects can be subtle reaction to more stimulating effects.
With any cannabis or CBD product, one size doesn't fit all meaning the effects will vary from person to person and based on everything from the dose to the situation and environment.
DISCLAIMER: Nothing in this article should be construed as medical advice. It is not recommended that anyone consume cannabis without the guidance of a medical professional or health practitioner.
Additional Reading:
https://ellementa.com/wp-content/uploads/2019/02/purple-rose.jpg
1280
1280
Aliza Sherman
https://ellementa.com/wp-content/uploads/2019/04/Elleflower-Text-Right-Header.png
Aliza Sherman
2019-02-14 15:07:37
2020-09-18 13:08:03
Love Yourself With Cannabis: THC