Review: Treat Yourself Vegan Tartlettes

NOTE FROM THE EDITOR: We love featuring high quality, well-vetted THC or CBD products, but we especially like featuring women-owned companies, Treat Yourself! Here's what one of our product reviewers, Carrie, has to say about their vegan tartlettes. 
I was one of "those kids" who didn't get to eat sugared cereal, corn chips, or toaster pastries. When I discovered those foods in my teenage years, I was delighted at all the naughty options.
Since then, I've laid off the Pop Tarts. But now, along comes an alternative: Treat Yourself Mini Pop Tartlettes.
Each product comes in a beautiful package that leads with: "Vegan, Gluten Free, Soy Free, and Refined Sugar Free." Each package is hand-tied with delicate rope and looks like something a crafter like me would come up with. I loved handling the packaging and untying the bow to uncover my healthy, cannabis-rich tartlettes!
I tried two variations:
Cherry Almond – 13 mg CBD:5 mg THC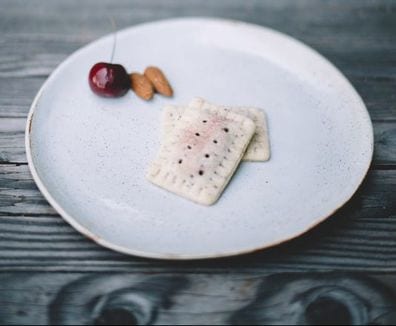 Strawberry Rose – 10 mg CBD:10 mg THC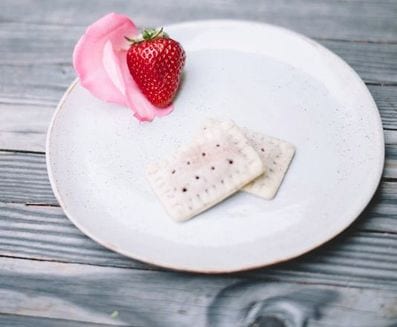 These tarlettes have no preservatives in them, so it's advisable to keep them fresh by storing them in the freezer. I let my pastries come to room temperature before eating them, but I think in a dash I could have had them frozen like Thin Mints. At room temperature, the texture was a bit chewy, so I tried warming the next one up. Perfection!
I was excited to find the tartlettes were healthier and better tasting than typical toaster pastries, and the effects of the products themselves hadn't even kicked in yet! The fruit in the middle rivaled anything I could get at a San Francisco Farmer's Market.
Treat Yourself's label on their tartlettes revealed more:
"A healthy twist on an old classic, we've created a chia seed dough and filled it with goodness. Great for menstrual cramps, relaxation and inflammation."
Finally, a product made by women for women – without stereotypical pink or purple packaging!
While I'm beyond needing products for menstrual cramps (Hallelujah), I did use the product for lower back cramping. I found that about an hour after eating my pastry, my back muscles started to disengage and my body relaxed. Given how painful my menstrual cramps used to be, I could imagine how this product would address that kind of cramping as well.
I am looking forward to trying their other nutrient-packed products including their PALEO coconut banana bread (40 mg CBD:15 mg THC) and their topical whipped body butter (a jasmine-vanilla blend).
Editor's Note: So are we!
Learn more about the founders of Treat Yourself, Inc. on Her Canna Life.
OUR REVIEWER: Carrie Rice is a nonprofit consultant living out her hippie dreams in San Francisco. In addition to her passion for bringing cannabis health education to women, she has a passion for bringing empathy to nonprofit management.
https://ellementa.com/wp-content/uploads/2017/09/vegan-poptartlettes.jpg
735
1100
Aliza Sherman
https://ellementa.com/wp-content/uploads/2019/04/Elleflower-Text-Right-Header.png
Aliza Sherman
2018-03-30 01:08:05
2018-05-25 10:50:35
Review: Treat Yourself Vegan Tartlettes