This show is brought to you by Harmony Women's Health. Tune into the show LIVE to get a special discount code on their products!
Perimenopausal and menopausal hormonal changes can make you feel stressed. But did you know chronic stress can disrupt your hormones? When your hormones are unbalanced, problems ensue: Anxiety, skipped or missed periods, insomnia, and more.
Learn about the critical connection between the stress you may be feeling and your hormones that are changing. There are ways to manage both and feel a whole lot better.
On Sunday, June 6th, Dr. Olivia Rose returns to help us calm the stress/hormone chaos. You won't want to miss this!
GIVEAWAY: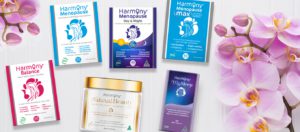 One lucky attendee will win a set of Harmony Women's Health products!
About Harmony Women's Health
Harmony Women's Health is a leader in women's health, empowering women through every phase of their lives for over 30 years. The Harmony Menopause range has three different product solutions for symptoms associated with Menopause because we know that not everyone's menopause journey or symptoms are not the same. All products contain a blend of traditional eastern and western natural herbs that synergistically work to treat symptoms associated with perimenopause and menopause.
About Dr. Olivia Rose, ND
Dr. Olivia Rose graduated from the University of Guelph with a Bachelor of Science Honours degree in Nutritional and Nutraceutical Sciences. In 2006, she graduated from the Canadian College of Naturopathic Medicine where she completed 4 years of study and a clinical internship at the Robert Schad Naturopathic Clinic and at the Sherbourne Health Centre where she worked with patients afflicted with HIV/AIDS and Hepatitis C. Her special areas of interest include hormonal health; infertility; children and teen health; stress management; weight loss; heart disease; digestive and immune health; skin rejuvenation and pain management.