Ladies: Cannabis Products for Better Sex are Here

Weed lubricants or "lubes" and other cannabis-infused sensual aids are on many women's radars, not to mention going into their nightstand drawers.
But does cannabis really help with women's sexual health and wellbeing?  Anecdotally, women say cannabis can:
reduce their stress that, in turn, can facilitate more pleasure.
enhance their creativity which could translate to a willingness to try new things.
lower inhibitions to get them "out of their head."
increase hormonal production that could 'open up' emotions such as passion.
ease discomfort and pain, particular during and post menopause.
enhance physical sensitivity and sensation and potentially increasing orgasms or orgasm intensity.
Smoking, vaping or ingesting cannabis can have varied effects on women and that means the sex you experience while "high" can vary from one woman to the next as well as what you consume, how much you consume and how you consume it.
Weed lubes are topicals, applied either to the surface of or inside the vagina. THC is absorbed through vaginal mucous membranes of the vagina, and technically should not make you feel "high" but instead relax the lower portion of your body and increase blood flow to all parts of your vagina.
Take careful note that if you are using an oil-based lube, they are not compatible with latex or polyisoprene condoms and can degrade any rubber-based sexual aids or accessories. While no substance introduced with condoms is 100% safe for the integrity of the condom material, some product websites claim they should be okay to use with lambskin, polyurethane, or nitrile condoms. Be aware and careful when using any lubricant with any condom other than what comes on the condom itself.
Available in California only (including delivery services like Sava).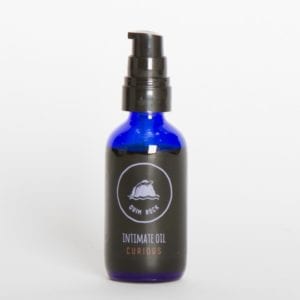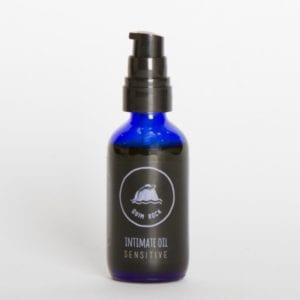 Comes in a Curious formula and a Sensitive formula. Curious contains additional essential oils. Recommends 6-8 pumps or 8-10 mg THC and applying 20 minutes before sex.
The Quim Rock website claims the Intimate Oil is "specifically designed to intensify climax, enhance sensation, increase libido, and serve as a vaginal health supplement."
Ingredients Sensitive: States only three – an unidentified oil, cannabis, and tea tree.
Ingredients Curious: Oil, cannabis, and tea tree plus additional essential oils not specified online.
Available in Arizona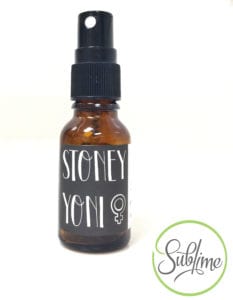 Comes in two variations: Stoney Yoni and Stoney Yoni Essential Health. The former is a "personal massage oil" to stimulate lubrication and promote sensitivity. The Essential Health version is more "therapeutic" with anti-fungal, anti-bacterial and anti-inflammatory properties.
Ingredients: 160mg of THC per bottle. Distilled cannabis, cosmetic coconut. Essential Health also contains rose, lavender and chamomile.
Available in California only at some dispensaries and through delivery services such as Sava.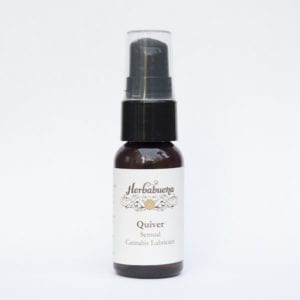 Quiver is a "sensual lubricant that increases pleasure, heightens sensitivity and supports and extend female orgasm." According to the HerbaBuena website, Quiver also "tones soft tissue, eases painful intercourse and alleviates menstrual cramps." Plus it is safe to eat…!
A 2-ounce bottle contains 84mg of THC. Recommends 2 pumps to start equaling about 4mg of THC.
Quiver was voted Best Sensual Product by SF Chronicle Green State in 2017.
Ingredients: Not a lot of specifics on their website. Includes cinnamon and cloves in an organic coconut oil base.
Available in Oregon only.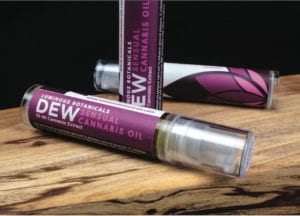 When applied as a sensual lubricant, the original High THC blend of Luminous Botanicals DEW enhances sensitivity, while the Balanced THC/CBD blend reduces discomfort. DEW is made with all organic, food-grade ingredients, including Clean Green Certified cannabis.
Ingredients: cannabis, organic almond oil, organic coconut oil, natural flavors.
Available in California only.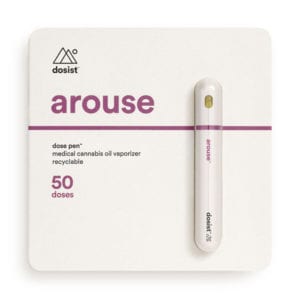 This is a vape pen, not a topical. The dosist dose pen comes in in two sizes: 200 doses and 50 doses.
The blend contains the terpenes linalool for relaxation and farnesene for arousal and contains a ratio of 10:1 THC-to-CBD. According to the dosist website, their pre-filled "dose pen™ ensures a precise dose every time." They also emphasize that their pens deliver a consistent, contaminant-free dose.
Ingredients: While their website doesn't list specific ingredients, it does give a general breakdown of their THC-forward formula including 88% Cannabinoids and 12% Terpenes: THC, CBD and "Accessory cannabinoids" or smaller amounts of β-caryophyllene, Farnesene, Linalool, α-humulene, and Limonene.
Available in California only.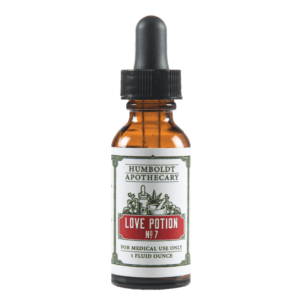 The Humboldt Apothecary website states their Love Potion #7 "supports a healthy libido" and can also be used as personal lubricant. 250 mg THC in the entire bottle.
Ingredients: Coconut MCT Oil, Cannabis extract, Damiana, Cinnamon, Kava Kava, Cardamom, Roasted Cacao Nibs, Vanilla Bean, Vitamin E, Stevia.
Can be shipped anywhere.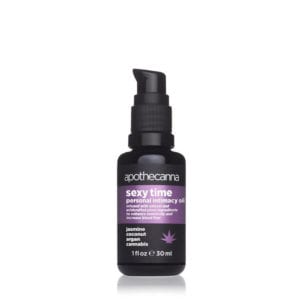 A plant-based glide combining jasmine, argan, cannabis and coconut. Claims to "enhance sensitivity and increase blood flow."
Recommends using 15 minutes before sex and encourages you to "massage lightly to neck, chest, and other erogenous zones."
Ingredients (key only): Jasmine, coconut, and argan. The website also says "Cannabis" but online reviews specify it contains only CBD so can be purchased online.
Can be ordered online.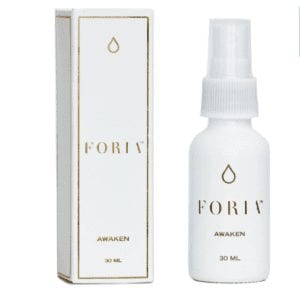 A "full-spectrum hemp oil" with eight plant-based aphrodisiacs and a chocolate and mint aroma, their website claims Foria Awaken "enhances tactile sensation and pleasure while decreasing tension, discomfort and dryness."
Ingredients: MCT Coconut oil, Full spectrum Hemp Oil, Whole-Plant Extracts (Kava Root, Hemp, Cinnamon, Ginger); Proprietary Oil Blend of Cardamom, Peppermint & Vanilla; Cacao Oil.
Available in California and Colorado only.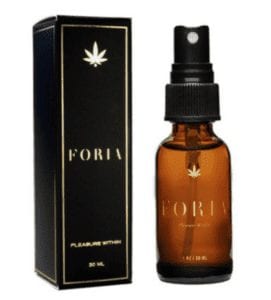 FORIA Pleasure blends liquid coconut oil and cannabis oil. Named the "Sex Product of the Year" by GQ in 2014 when it first hit the shelves, FORIA Pleasure claims that "for some women, it may awaken arousal and heighten sensation making orgasms more intense, fuller or easier to access. For others, it can help promote natural lubrication, reduce pain and tension and create the relaxation necessary for sensual experience or restorative rest."
Ingredients: No ingredients listed on the FORIA website.
Available in California and Colorado only.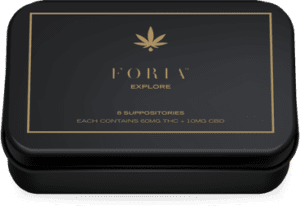 FORIA Explore is a cannabis suppository promoted as "sensual enhancement and comfort during anal play." Explore delivers 60 mg of THC and 10 mg of CBD to "so you can experience muscle-relaxation and enhanced pleasure without the strong psychoactive effect traditionally associated with cannabis."
Ingredients: No ingredients listed on the FORIA website.
P.S. You might want to read our article: Cannabis Suppositories: Sticking Weed Where?
Available in Alaska only.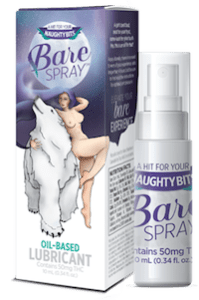 This personal lubricant is made with organic, fractionated coconut oil, essential oils, and cannabis oil concentrate derived using CO2 extraction "with flower containing zero chemical pesticides and no hydrocarbons." Safe to ingest – and, in fact, the formula was approved by the state's marijuana control board as an edible. 5 pumps equals 5mg of THC.
Ingredients: Organic Coconut Oil, Supercritical C02-Extracted, Solvent-Free Cannabis Oil. Product may contain 1ml of the following Essential Oils: Bergamot, Ylang Ylang, Lavender, Clary Sage, Rose, Cinnamon Leaf, Sweet Orange, Sandalwood, Neroli, and Jasmine. Contains Cannabis.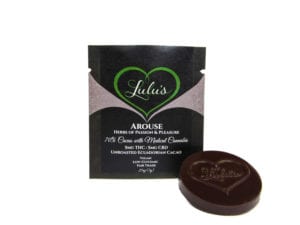 An alternative to topicals is edibles. Dark chocolate is considered an aphrodisiac on it's own. Consists of 70% Cacao and contains a 1:1 radio of 5MG THC : 5MG CBD. Additional ingredients include stimulating Yerba Mate and Kola Nut, and plant-based aphrodisiacs including Damiana, Catuaba, and Cistanche.
Ingredients:  Raw Cacao*, Coconut Sugar*, Higher Vision Super Oil*(THC distillate, Live Cannabis Terpenes), CBD Oil*, Proprietary Herb Blend*(Yin Yang Huo, Muira Puama, Tribulus, Longan, Yerba Mate, Damiana, Kola Nut, Green Tea, Catuaba, Cistanche, Saw Pawmetto, Maca, Oatstraw, Cajuaro, Ho Shou Wu, Morinda, Schizandra), Vanilla Bean*, Sea Salt & LOVE
*organic ingredient
Available in California only at dispensaries or door-to-door delivery.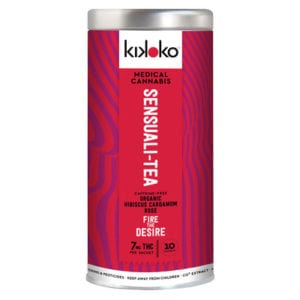 Gaining in popularity in the ingestibles/edibles category are cannabis and CBD teas. Kikoko offers a variety of cannabis-infused herbal teas, and their website claims their Sensuali-Tea can "intensify orgasms."
Ingredients: Caffeine-free, hibiscus, rose petals, orange peel, lavender, cardamom, cloves, licorice root, organically grown Kikogold ™ Cannabis active. 7mg THC per tea bag.
Tips for Experiencing
Test Topicals First
When applying topicals, review the ingredients on the packaging carefully to ensure you aren't allergic to any of them. Some may be unfamiliar – and cannabis may be an ingredient you haven't applied topically before – so start with applying to a small area first to check for any adverse reactions. A good area to test is on your inner arm before applying to vaginal tissue. Check for swelling, redness, itching or burning. It can take up to 24 hours to react. Do not use any further if you experience an adverse reaction.
Start Low
If you are trying edibles or other ingestibles such as teas, use the rule: Start Low and Go Slow. Edibles take time to process through your digestive system and liver so don't get impatient and consume more thinking you didn't take enough. Tea and other liquids may take effect sooner than edibles. Depending on the dose, the effects can be subtle reaction to more stimulating effects.
With any cannabis or CBD product, one size doesn't fit all meaning the effects will vary from person to person and based on everything from the dose to the situation and environment.
DISCLAIMER: Nothing in this article should be construed as medical advice. It is not recommended that anyone consume cannabis without the guidance of a medical professional or health practitioner.
Additional Reading
https://ellementa.com/wp-content/uploads/2018/04/woman-bed.jpg
853
1280
Aliza Sherman
https://ellementa.com/wp-content/uploads/2019/04/Elleflower-Text-Right-Header.png
Aliza Sherman
2018-04-12 01:34:59
2020-09-18 13:11:41
Ladies: Cannabis Products for Better Sex are Here