9 Reasons to Fall in Love with Walking

Ever look at another woman and wonder "How does she keep it all together?" She's fit, she's relaxed, she seems to be doing it all. Could it be CBD?
As more women look at CBD for optimizing their wellness, we're here to tell you that while CBD can be helpful, it isn't a cure-all.
Any woman who seems to have it all together is probably doing 3 things right:
She is getting good sleep at night. Yeah, we know that can be challenging.
She is eating healthfully. That means eating more fruits and vegetables and keeping fried and processed foods to a minimum.
She is keeping her body moving. Don't just sit there!
We all need to prioritize ourselves at least a little bit every day.
It isn't easy – we know this. But we're trying something fresh to get us motivated.

We're teaming up with 99 Walks, a new company on a mission to get a million women walking with monthly challenges and incredible community support.
Why walking? Because moving one foot in front of the other takes no special gear, no special place, no special time and the health benefits are literally amazing.
Here are nine reasons to walk:
Sometimes we need a little extra motivation to get up, get together, and get going.
That's why we've fallen in love with 99 Walks.
Their monthly walking challenges are designed to get moms moving together, and at the end of the month, 99 Walks rewards you with gorgeous, inspirational jewelry. Join the October challenge at 99walks.fit.

Additional Resources
Health.gov Physical Activity Guidelines
Exercise for Stress and Anxiety
How to do Walking Meetings Right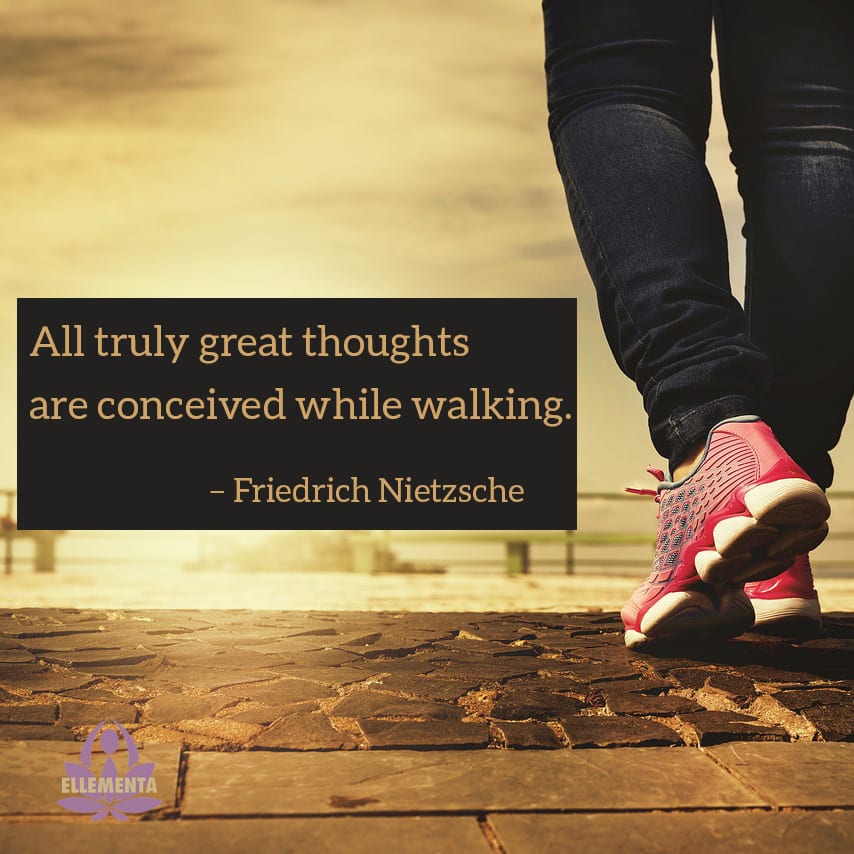 *affiliate link
https://ellementa.com/wp-content/uploads/2019/10/woman-walk.jpg
854
1280
Aliza Sherman
https://ellementa.com/wp-content/uploads/2019/04/Elleflower-Text-Right-Header.png
Aliza Sherman
2019-10-08 16:40:33
2020-09-17 10:36:38
9 Reasons to Fall in Love with Walking