Review: Legion of Bloom "The Monarch"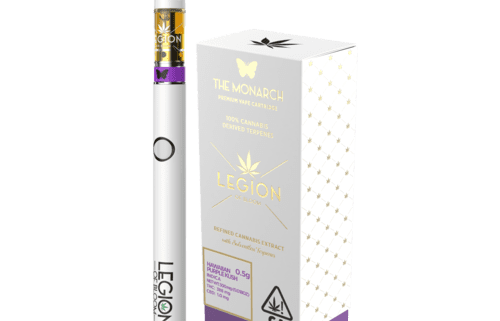 Carrie is our cannabis reviewer. She
 is a nonprofit consultant living out her hippie dreams in San Francisco. In addition to her passion for bringing cannabis health education to women, she has a passion for bringing empathy to nonprofit management.

I smoked plenty of cannabis back in my younger days, but as I grew up, I decided inhaling any kind of smoke was less than ideal.
Like many of you, I sometimes want the instantaneous effects of cannabis without the worries of inhaling carcinogens from smoking. I found myself attracted to vaping which involves warming, but not actually burning, cannabis. Unfortunately, my favorite vaping systems were way out of my price range and definitely not portable.
Over time, vape products became much cheaper, and I discovered disposable pen cartridges featuring cannabis concentrates instead of dried cannabis flower. Disposable vape pens became a reasonably priced and convenient alternative to smoking for me. I started looking for products that worked for me and recently found The Monarch by Legion of Bloom.
The Monarch vape pen has beautiful packaging, a high THC potency, and the ability to consume discreetly literally in the middle of a crowd and have no one notice. I've tested this myself in Union Square in San Francisco! Because of the high THC level, most users can take one or two inhalations and get immediate results. Each inhalation of the pen is smooth and easy even for my novice friends.
The flavor of each breath is like warm dried herbs, a pleasant grassy profile.
For me, a straight Sativa product can make me too anxious, and a straight Indica product doesn't help much. The Cherry AK47 Hybrid cartridge (a strain crossing both Sativa and Indica) is the best fit. The product instantly perks me up, clears my crowded brain, and allows me to focus on whatever task is at hand. Even when I'm caring for or interacting with loved ones – including children – I find that I am able to be significantly less stressed with just a few hits from this pen and function well.
Like me, you may wonder if inhaling concentrate is harmful. Many products on the market are made with chemicals I can't pronounce, so I leave those alone. Luckily, there are a few fine products on the market that are transparent about their product ingredients.
Here's how Legion of Bloom describes The Monarch:
The AWARD WINNING Monarch offers a triple-refined, solvent-free cannabis oil blended with our single source all natural cannabis derived terpenes, CDTs… The Monarch features a glass cartridge with dual coils for a better tasting and healthier experience… The Monarch battery has three temperatures, low, medium, and high as well as a 10 second pre-heat option which allows the oil to heat up in advance for larger puffs. This unique offering boasts THC potency from 75-80%.
If you're looking for a quick, discrete, and efficient vape product, The Monarch with Cherry AK47 Hybrid cartridge by Legion of Bloom is a great choice.
Current Available Strains:
Cherry AK, Exodus Cheese, Kashmere Kush, Sour Diesel, J1
Basic Functions:
Turn On/Off: Press button 5 times
Pre-heat function: Press button 2 times
Temperature change: Press button 3 times
Green = Low
Blue = Medium
Red = High
https://ellementa.com/wp-content/uploads/2017/04/octoberpenandbox.png
500
500
Ellementa Woman
https://ellementa.com/wp-content/uploads/2019/04/Elleflower-Text-Right-Header.png
Ellementa Woman
2017-04-14 18:44:01
2020-06-09 12:14:05
Review: Legion of Bloom "The Monarch"