Review: The Lady G Stash Bag by AnnaBis

Gone are the days of plastic baggies for our weed. Our cannabis deserves better.
We've been on the lookout for beautiful and practical bags for stash. Many of them can even double as a everyday purses.
Here's what Pamela N. Epstein, Esq., LL.M from Greenwise Consulting says about the Lady G from AnnaBis.
What do you do?
I am a cannabis entrepreneur and, more specifically, a cannabis attorney and consultant. I founded Green Wise Consulting, serving clients in both California and Arizona. I am also Of Counsel with the Hoban Law Group.
What is your connection to cannabis?
My connection with cannabis is deeply personal. I have suffered from debilitating migraines for most of my life; resulting in multiple trips to the hospital. My migraines intensified during law school. As a result, I was on numerous pharma medications.
The side effect of one of the prescribed medications was the "slowing of my cognitive process" which was a very educated way of saying the medication would make me dumber. My stock and trade as a lawyer was my mind. I  seriously contemplated leaving the legal profession and going on disability.
Then, like a miracle, I found a progressive neurologist in California who suggested I try cannabinoid therapy. For me, it was an indescribable gift. I went from 15 migraines a day or more in a month to, at most, three to five and now sometimes even zero.
Then I was confronted by a situation that fueled me to fight for reasonable cannabis regulation today: I moved to Arizona prior to the build-out of their medical marijuana program. I was going to be committing a felony by taking my medication across state lines. I started using my legal training for others and myself in my cannabis community.
You can say cannabis gave both professional and personal meaning and support in my life.
How did you learn about AnnaBis bags?
I was always on the look out for a way to carry my medication and keep my private life private. I was introduce to AnnaBis bags by a colleague of mine who saw Jeanine (the founder) at the Vegas Marijuana Business Conference two years ago.
My colleague called and said, "Pam, I found a bag made for you!"
She said that they were fashionable and functional for the cannabis fashionista. I went on the website and was immediately hooked!
I corresponded with Jeanine over email – she handles all customer inquires personally – and the rest is history.
My AnnaBis bag is staple I simply could not live without.
What first drew you to the Lady G bag?
I live for a music festival and a free-spirited, 70s fashion moment! The Lady G bag embodies that spirit. It has rich desert colors and a funky modern twist — think Coachella as purse! It can transition from a cross body to waist bag – the ultimate for when you need your hands free to dance to the music or pass a joint. I knew the moment I laid eyes on the Lady G it would safely store all my essentials for some rocking adventures!
How does the Lady G fit into your life?
It has functionality and a personality. You can dress it up or down; wear it across your body or around your waist. I get tons of compliments. Its a bag I'm proud to carry. And added bonus: it keeps my cannabis consumption private, giving me the chance to proudly share my secret when I want.
Favorite feature?
My favorite feature is the multiple smell proof stash pockets. I never cease to be amazed at how powerful the smell proof technology is!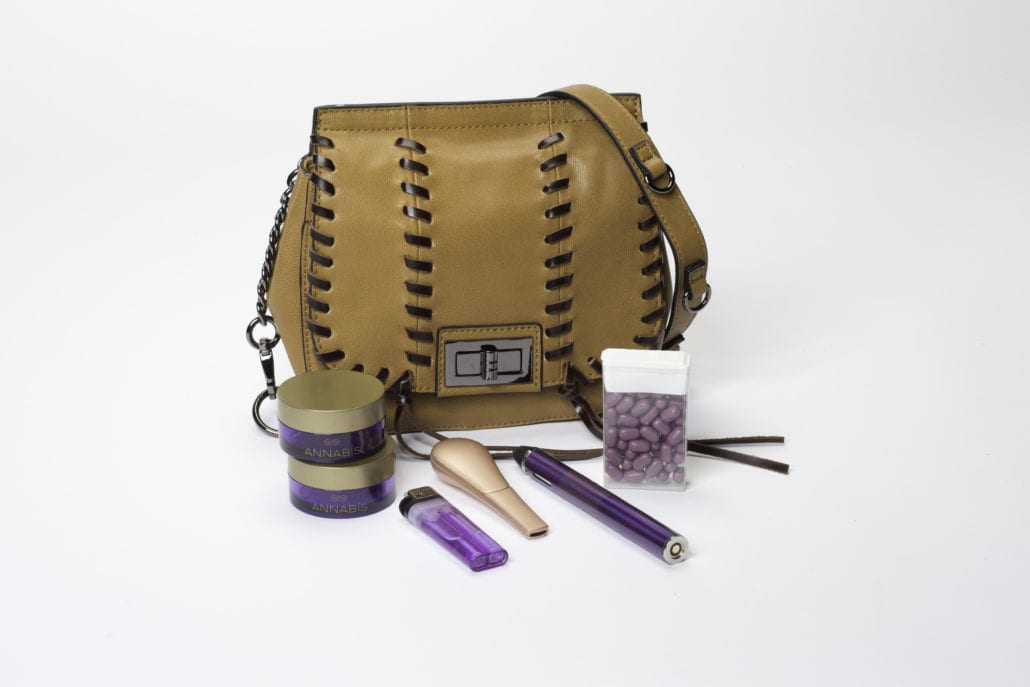 What's in YOUR Lady G bag?
I can fit all of this in my Lady G believe it or not!
My Pax
Pax Era
Kiva Petra Mints (love to microdose!)
Wallet with my patient recommendation
Keys (car & house)
Gum
AnnaBis container with medication
CBD/THC infused lip balm
Dog treats for my lil' pup Mojo
Business cards
Sunglasses
What's YOUR favorite stash bag?
https://ellementa.com/wp-content/uploads/2017/04/Annabis_purses0758.jpg
1000
1500
Ellementa Woman
https://ellementa.com/wp-content/uploads/2019/04/Elleflower-Text-Right-Header.png
Ellementa Woman
2017-04-12 21:32:57
2017-04-29 18:26:17
Review: The Lady G Stash Bag by AnnaBis