REVIEW: SDK Snacks Healthy Infused Alternatives

The world of cannabis edibles is a gummy one. Sugar everywhere. Chocolates, brownies, lollipops, even ice cream. Legalization is opening a market for some really delicious treats with double the treat. Also, legalization is opening our minds to the myriad of ways that cannabis can be used to soothe, heal, and supplement our daily lives for health and wellness.
Plenty of women take multiple doses of cannabis a day, from tiny, sub-perceptible microdoses to larger doses depending on the desired health outcomes. Not everyone wants to add inflammatory ingredients to one of the most anti-inflammatory medicines on Earth. SDK Snacks has a thoughtful, delicious, gluten-free, all-natural edible for that!
Actually they have three: A classic chocolate chip cookie, Tokeless B Coconut bites, and C'est La Herb savory herb crackers. And bonus: They just made a brand new healthy, medicated snack for your beloved dogs called Bernie's Kind Biscuits because all mammals have endocannabinoid systems.
Caring about what we consume should not be limited to our meals but also include our medicines.
Founder, Jill Trinchero's commitment to quality should instill a sense of nutritional security for even the most sensitive digestive system. All of SDK products are made with high-quality ingredients like Bob's Red Mill Gluten-free flours, and Darigold butter. She uses no corn syrup or dye, and she sources all of her cannabis from a single farm, Moto Perpetuo, chosen for their clean and ethical growing practices as well as their premium products.
Each serving is discreetly packaged in gold foil for the Tokeless, silver for the cookie, and clear for the cracker, easy to toss into your purse and consume when it's time to medicate without sending up smoke signals about your consumer status. Though, I have to say, they would also be awesome all opened up and laid out on a vintage China dish for your next book club meeting, knitting group, adult potluck, or as a pre-game snack for your meetup to storm the castle and take down the patriarchy.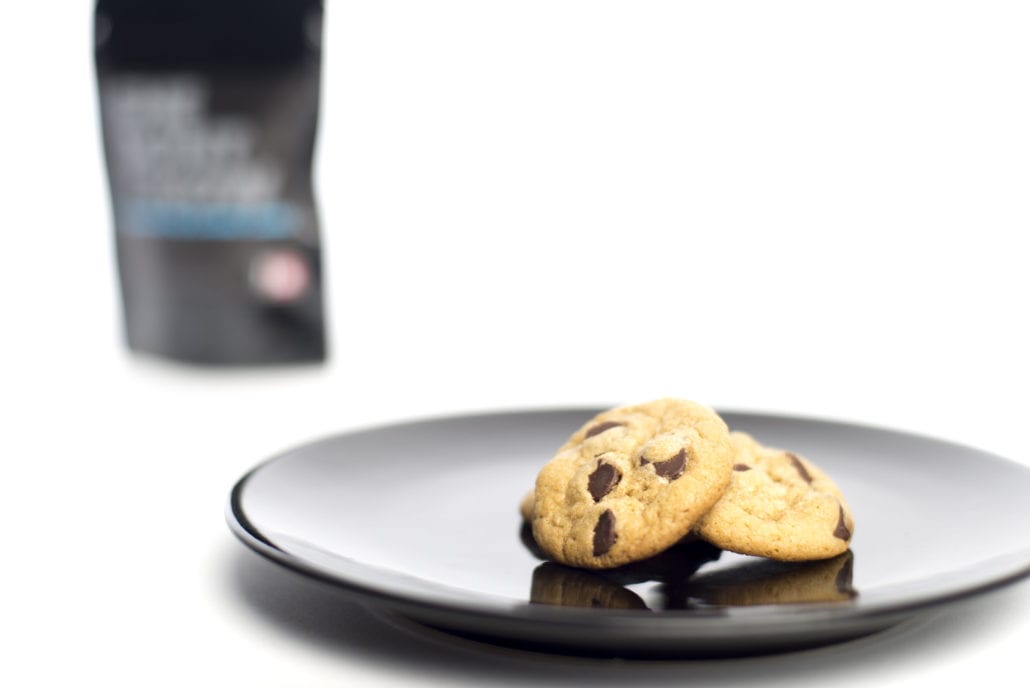 The classic chocolate chip cookie is just that: Classic. It has the perfect crispy/chewy texture of your grandma's old wheat flour-based version and is every bit as delicious. Infused with five milligrams of THC, this delightful, gluten-free treat contains the perfect amount to gently medicate the seasoned user. It's also easy to break in half for more sensitive folks, new consumers, or people looking to add a microdose to their day.
The Tokeless B Coconut bites are probably my favorite. Vegan, raw, and gluten-free, they aren't as sweet as the cookie as there are no added sugars, but these little nuggets still have enough natural sweetness to be a perfect treat or satisfying between-meal snack. The texture is more like a no-bake cookie with flecks of toasty coconut. Out of the whole SKD line, this is the only one with a detectable cannabis flavor. It's very slight and not at all overpowering but definitely present. Also, testing at five milligrams, the effects, depending on your constitution, should be very mellow. It's important to know your tolerance here as I found these treats to be slightly harder to portion out.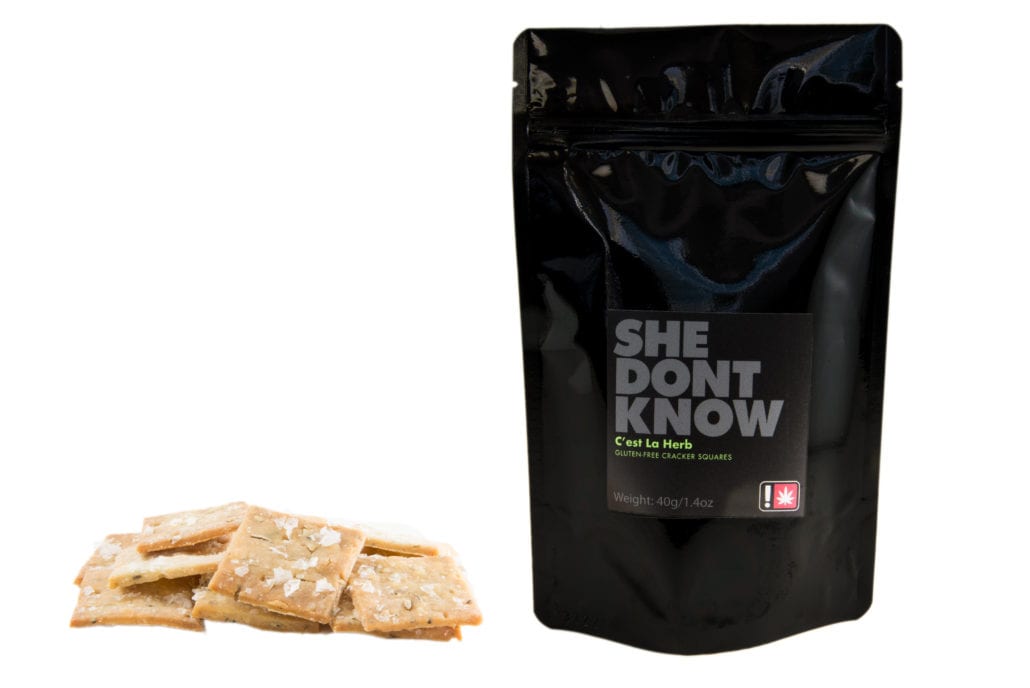 The C'est La Herb savory crackers are a brand new product. It's so exciting to have a delicious savory option. It's so rare! And these crackers do not disappoint. Each five milligram serving is made up of four buttery little crackers so it is easy to quarter your dose, eat them all, or share them. Like the chocolate chip cookies, the texture is identical – or better – than its glutenous cousins. They are so crispy that it's hard to believe they're gluten-free! They're richly seasoned with savory herbs and, brilliantly, topped off with Maldon Sea Salt Flakes. If you're familiar with Maldon Salt, that's probably the only detail you need to know to truly understand the love that goes into the SDK line.
Bernie's Kind Biscuits dog treats may be the product Jill has created with the greatest love. "He's my favorite member of my family" says Trinchero with a wink, referring to her own dog, Bernie. Cannabis can be so helpful for so many pet ailments and, just like in humans, it can contribute to a softer, more enjoyable quality of life for pets. The quality CBD in Bernie's biscuits is a gift you can completely trust when you offer them to the sweet creatures that count on your care.
Jill leases space in her approved commercial kitchen to other edible businesses in Portland and actively participates in communities of women that are uplifting the power of cannabis to bring gender and economic equality to women everywhere. SDK snacks, from production to action, is a company that's good for us all.
Visit SDKSnacks.com and support a woman-owned business!
https://ellementa.com/wp-content/uploads/2017/11/SDK-ALL_lores.jpg
570
1500
Ellementa Woman
https://ellementa.com/wp-content/uploads/2019/04/Elleflower-Text-Right-Header.png
Ellementa Woman
2018-02-08 06:31:05
2018-05-25 10:49:55
REVIEW: SDK Snacks Healthy Infused Alternatives