Arcane Revelry Sumptuous Cannabis Event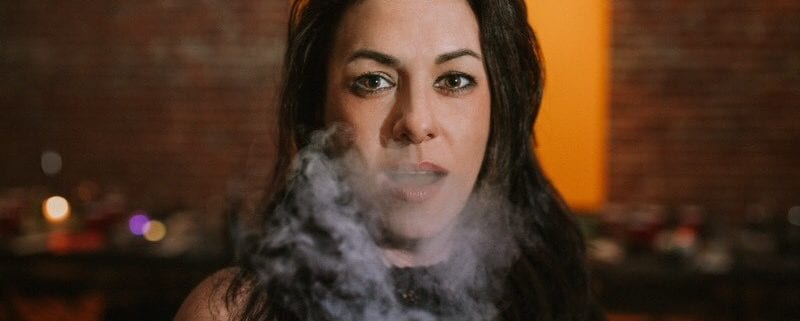 Regardless of your level of experience with cannabis, there are events in legal states where you can sample and consume. Meg Worden, one of our writers and the organizer for Ellementa Portland, recently went to the event Arcane Revelry (featured photo is founder Crystal Feldman). Here's what Meg found…
I was delighted to be invited to cover the Arcane Revelry event in Portland, Oregon. Founded by Crystal Feldman, Diana Eberlein and Benjamin Ariff, the event site states its mission is "to bring together community members, entrepreneurs, thought leaders, innovators, and forward thinkers that all share a love of cannabis culture and high-spirited social engagement."
The invitation promised a four-course farm-to-table meal, speakers, a good cause, and the consumption of gorgeous, fully-organic, cannabis flowers. The event took place in a funky downtown warehouse used for filming the Portlandia series, a warehouse aptly called "Studio 13." I was all in.
There are still laws that limit public consumption in Oregon, so these events remain invitation-only. You can get added to the invitation list at their website. This event was BYOB, so I stopped at the Whole Foods Market for a cold bottle of Rosé for the table before heading across the street to a wide green door, already open.
A huge cannabis leaf and flower bouquet made it obvious I was in the right place.
I walked into a crowd of adults, far more hotelier than hot-box, already gathering around a foyer full of medicated and unmedicated products geared towards a happier, healthier lifestyle. As is usually the case in events like these, there were smiles all around.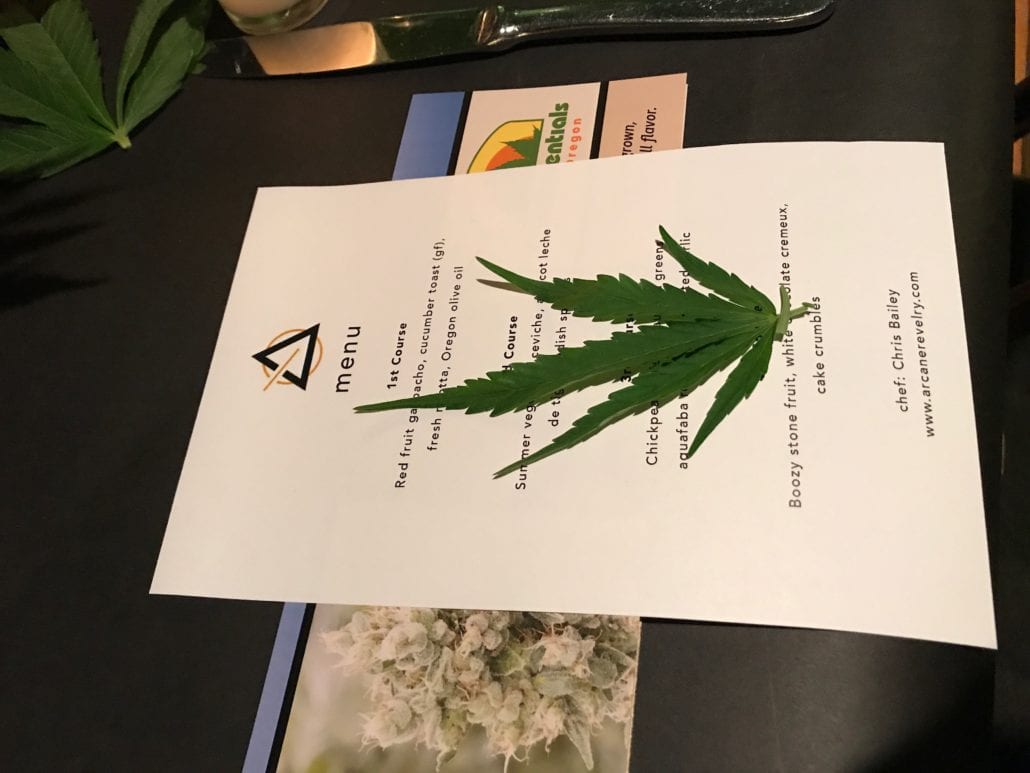 Fresh cut bouquets of flowers and cherry tomatoes from Willow Bar Farm sat next to sweet and savory snacks from women-owned Lucky Rabbit Snacks — OMG, the Curry Miso Matcha snacks were so good — next to High Desert Pure Craft Co2 Concentrates, and unbelievably divine medicated honey brands Hive Honey (honey sticks), and Lift. The largest table featured the event's cannabis partner Cannassentials Organic Cannabis Farm. Clear glass jars were available showcasing their different strains of cannabis flowers to open and sample with either a pipe or bong.
I sampled a beautiful, crystallized sativa while chatting with the farmers enthusiastically shared the successes of this fully-natural farm in Eugene, Oregon.
In the main studio, eight banquet tables were set with white linens, gorgeous herbal and floral cannabis bouquets. There was a fresh leaf placed over every menu card and etched silver trays that held little bowls of cannabis flowers, a glass pipe, a lighter, and a couple of pre-rolled joints. On the side of the room, Chef Chris Bailey plated golden piles of Lucky Rabbit Snacks' kimchi underneath a suspension bridge where DJ Kevin Davis spun down tempo beats in a slick of green light.
At the head of the room, several lounge chairs and a modern leather sofa framed a table with more jars full of cannabis and an LED-lit ice sculpture, fully carved and outfitted as a pipe, which, naturally, held the attention of a small group of revelers. The air was gently perfumed with the sweet and pungent smell of cannabis smoke, one of the most relaxing smells on earth. Right up there with line-dried sheets for me.
I felt myself drifting into a bit of a haze, a feeling of contentedness, of connection.
Connection. This is important.
Gatherings like the Arcane Revelry dinners, with a focus on cannabis as a medicinal plant with multitudes of healing properties versus the aspect of intoxication, are facilitating these very powerful opportunities and conversations. I get all goose bumped and grateful to be a part of it.
Crystal took the mic and welcomed everyone to dinner by introducing the farm, the chef, and giving us the strain names of the flowers on our table's little trays: Orange Haze, Sour Diesel, and Purple Oregon Gorilla. I lit one of the Sour Diesel pre-rolled joints and passed it to the woman to my right, one of the delightful owners and organic vegetable growers from Cannassentials.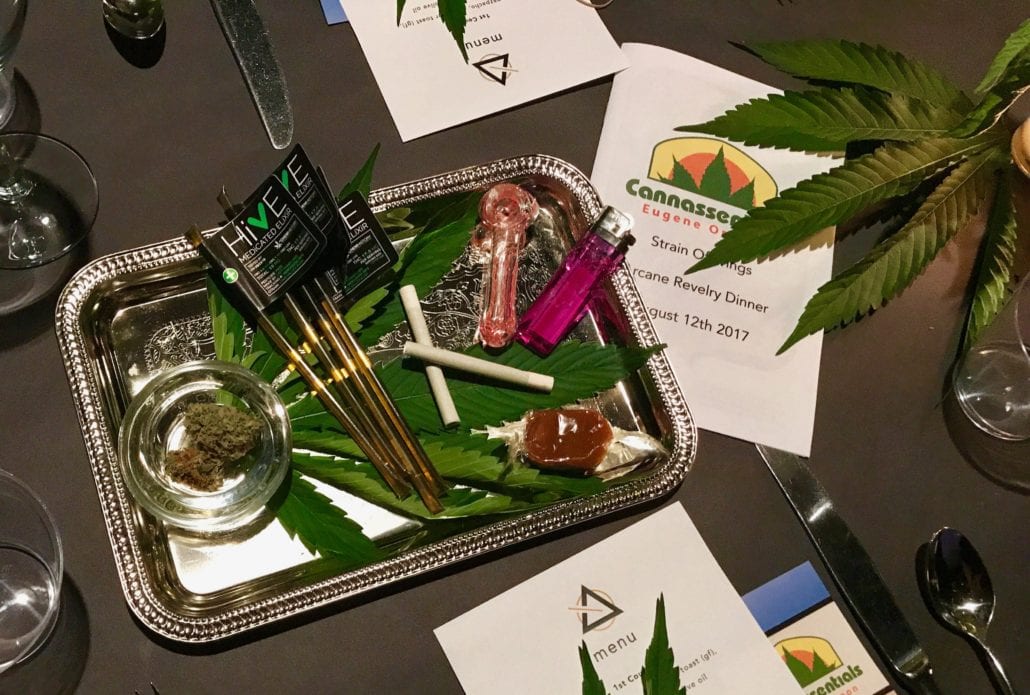 Like a dream, the smoke moved through my body, relaxing my muscles, settling into me with a bright serenity. The colors got a little brighter, the music a little more nuanced, more in harmony with my own body rhythms, and the faces around me more friendly. I imagine if you had a Kirlian camera, I would have looked like a sparkler.
Watermelon Jicama kimchi was followed by red fruit gazpacho with cucumber toast, fresh ricotta, and Oregon olive oil served on stylish, yet sustainable plates made of from palm fronds. Deep reds and greens were delivered in fresh organic glory, carefully flavored to enhance the ripe produce, adding a surprising twist.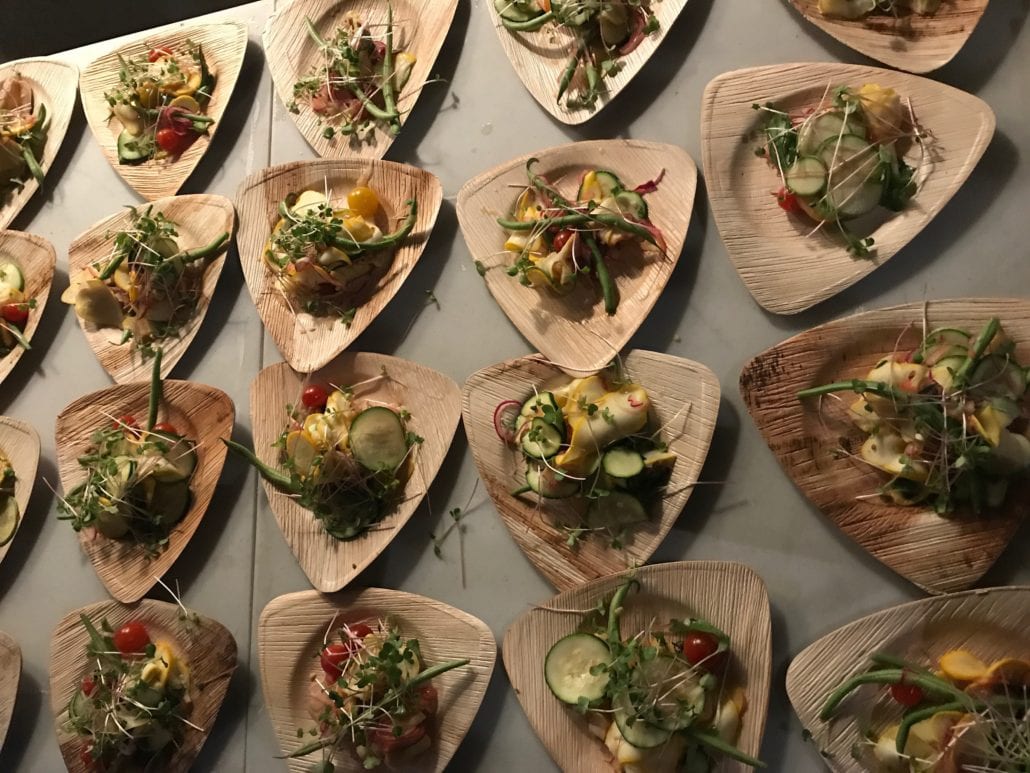 Later, when I was able to speak to Chef Chris, he said he most enjoys creating foods that provoke while nourishing. I'd say that was definitely my experience, and judging from the satisfied faces and empty plates on the tables, I wasn't alone.
As a professional holistic health coach, the pleasure and power of plant-based meals that uplift and embody the vibrancy of unprocessed eating are a salient part of a vibrant system. The ancient Hippocrates quote comes to mind. "Let thy food be thy medicine, and thy medicine be thy food."
The farm family at the table commented between bites on the different elements that they had grown and delivered to the dinner, a luxurious loop of farm-to-table food and farmer-to-folks conversation. I was thrilled to have the opportunity to listen to the passion these people have for the planet and sustainable growth culture while eating my next luscious course of summer vegetable ceviche, apricot leche de tigre with radish sprouts. Oh my God, you guys.
Between courses, I reconnected with Crystal and Diana at the ice bong to check-in. Their enthusiasm for their event is evident, but so is the passion they have for the deeper mission of Arcane Revelry, a mission to return people to each other, to a more harmonious state of wellness by gathering together over powerful food, medicine, music, and ideas. I was wildly inspired as Diana packed the bowl of the ice pipe.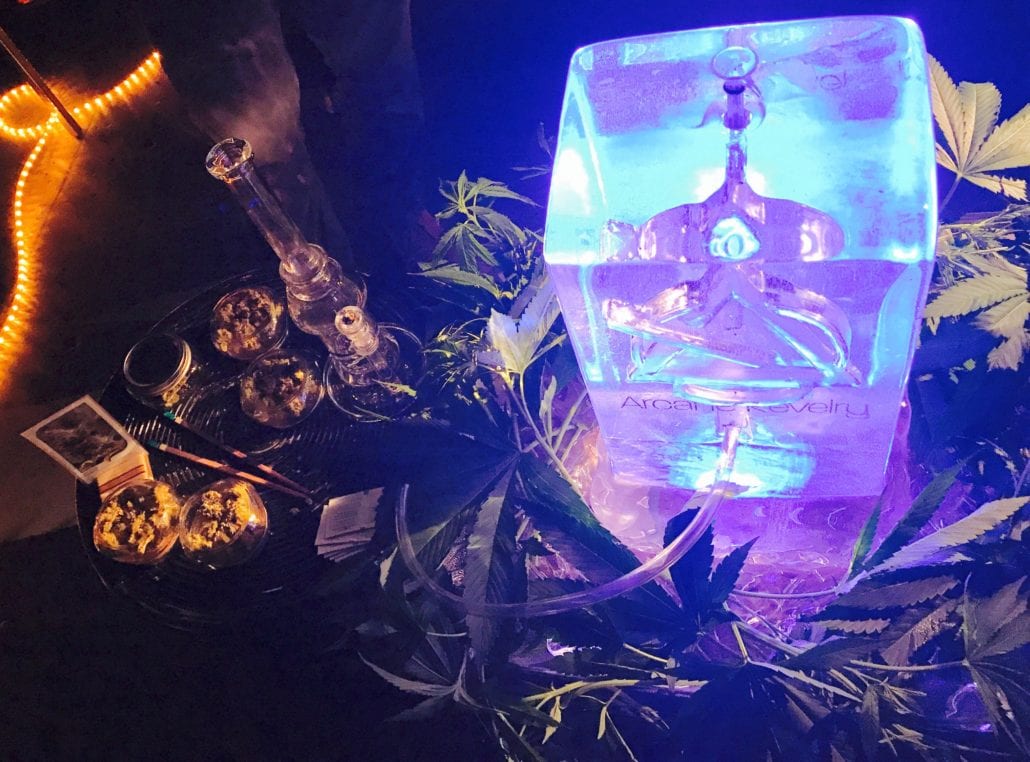 Smoking out of ice feels so smooth and cool, almost as if it's not smoke at all, just pure flavor. Earlier, at the table, the farmers had been trying to explain cannabis tasting to me. I'm not yet familiar with the components, but what I tried tasted really good, bright and fully noted with fruit and spice flavors. More importantly, to me anyway, I was extremely relaxed and engaged as the organization's sponsors and stakeholders took the stage.
Arcane Revelry partners with, and raises funds for, the Cannabis Certification Council. According to their website, the CCC is a non-profit standard-holding body that offers a national third-party certification program and seal. The organization's mission is to promote organic cultivation methods, empower fair labor practices, and provide consumer education and choice in the cannabis industry.
Earth Law spoke about the scope of current cannabis law, and the Cannassentials farmers filled us in on their boss-level organic methods and full scope closed loop farm future. They are making an effort to produce everything they use, which is an impressive feat in a modern world, especially in cannabis, where the use of pesticides, chemical fertilizers, and energy-sucking grow houses is prevalent.
The last two courses were chickpea panisse, sautéed greens, aquafaba remoulade with roasted garlic, and then a dessert of boozy stone fruit (SO boozy!), white chocolate crémeux, and cake crumbles. The focus on plant-based nutrition for an event like this feels so in alignment with the magic of cannabis. There is such a need to de-stigmatize, decolonize, and return cannabis to its role as herbal food and medicine, so when paired in this way, we get to have a kinesthetic experience of that connection.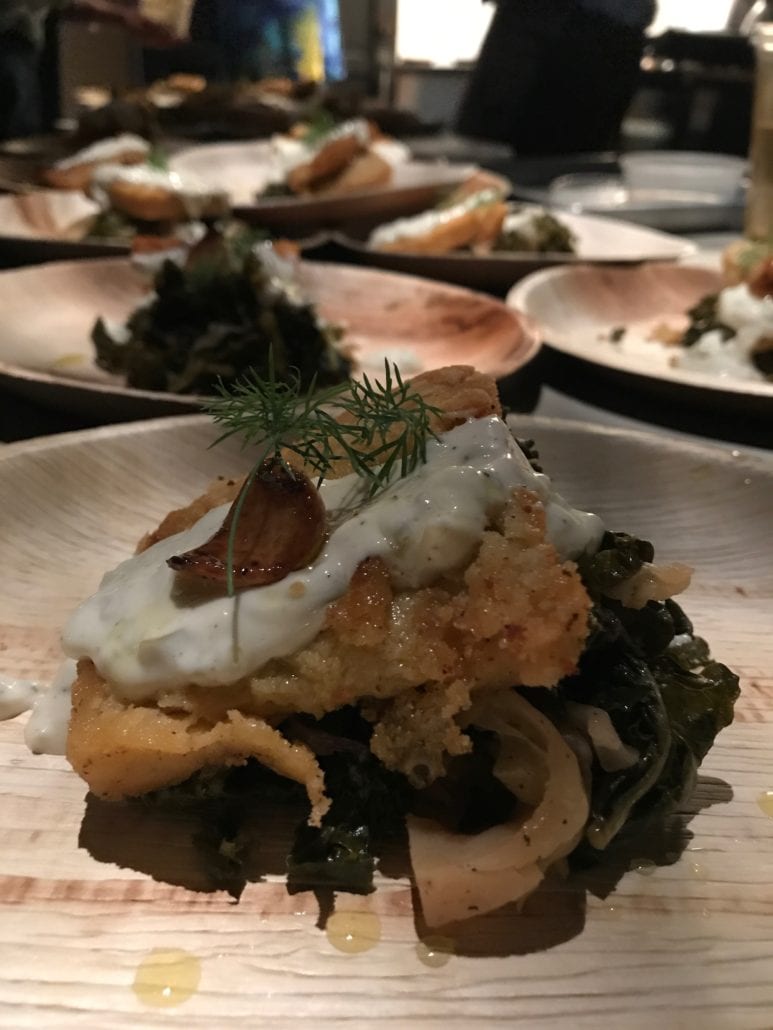 We all know that cannabis and food have a long love affair. The prevailing narrative that the only food that pairs with weed is pizza and candy isn't the whole story.
The effects of cannabis elevate the mind and help us recognize and remember what is so fantastic about our inclusion in the natural world. Eating things that are healthy for body, soul, and planet becomes that much more enjoyable, craveable even.
As dinner came to an end, people got up from tables to mingle, to reconnect with some of the sponsors and vendors to thank them, to learn, and to exchange information before drifting back out of the wide studio doors. As I gathered my things, including three of the table bouquets (there's an art project coming with those fantastic leaves), I knew I'd been part of something special, something safe and hopeful, something that is even bigger than this one organization or event. Something nothing less than a revolution, a movement towards an elevated definition of being whole, healthy, and fully realized humans on a fertile, thriving planet.
https://ellementa.com/wp-content/uploads/2017/09/Arcane-Revelry-Crystal-Feldman.jpg
534
800
Ellementa Woman
https://ellementa.com/wp-content/uploads/2019/04/Elleflower-Text-Right-Header.png
Ellementa Woman
2017-09-08 22:14:23
2017-09-09 21:35:01
Arcane Revelry Sumptuous Cannabis Event