CBD Mocktails for Your Health

CBD Mocktails for Your Health
Looking to reduce your alcohol intake? Love evening cocktails but not the next morning? Red wine giving you perimenopausal night sweats and white wine suddenly giving you a headache? You might want to try CBD mocktails – for your health.
Mocktails are the adult beverage of choice for anyone looking for something other than a soda or seltzer, although either could work well in a non-alcoholic mixed drink. We tried several mocktail mixers and CBD infusions that tantalized our taste buds. Here are a few of our recommendations.
SexyAF – Rethink Your Drink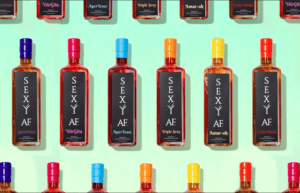 SexyAF Spirits are 100% alcohol-free (AF stands for Alcohol-Free. What did you think it stood for? Wink wink.) They are plant-based, low calorie, botanically infused mixers that can be added to seltzer or juice, solo or mixed together. They are also vegan, gluten-free, and allergen-free. Note: SexyAF does not contain CBD, but you can use one of the CBD drink infusions described below.
Try Viirgiin, a juniper-forward gin alternative, with your favorite tonic water (we like Fever Tree Indian Tonic Water or Q Tonic Water), add a slice of lime, and you've got a not-too-sweet, tangy G&T. Triple Sexy can rock your mock Margaritas, Amar-Oh is works well as an amaretto substitute, and AperTease brings the flavors of bitter and sweet orange and cardamom to your cocktail. And check out their new Friski Whiski!
Jo-Anne Reynolds, the Canada-based CEO of SexyAF, was out with girlfriends and noticed several of them were not drinking for one reason or another. The idea for sexy, sophisticated low-cal, alcohol-free cocktails was born. Get the SexyAF mocktail recipe book for free.
Green Bar Supply Co.
If you're looking for CBD-infused bitters and simple syrups, Green Bar Supply Co. has that covered. Their simple syrup flavors are Lavender Lemon, Ginger Lime, Mango Jalapeno, and Pomegranate Orange. All simple syrups contain 15mg of full-spectrum CBD per one ounce serving.
Their bitters do contain between 56% to 58% ABV as well as 300mg CBD per two fluid ounces (60ml). The flavors are Cardamom Vanilla, Elderflower Lavender, Hibiscus Mint, and Orange Blossom.
Try their odorless and tasteless Beverage Infusion in your SexyAF mocktails or other non-CBD-infused drink. If you add somewhere between 15mg (half a dropperful and 30mg (full dropper) of CBD, you are getting a basic supplemental dose.
Mello Mind
If you're looking for a water-soluble CBD Oil with the "herby, peppery" taste of the natural hemp plant, Mello Mind is the CBD mocktail add-on for you (also great in your water). Mello Mind is emulsified CO2-extracted, full-spectrum hemp oil and certified organic MCT oil with a total of 1200mg in the bottle and 40mg of CBD per dropper.
CBD Seltzers
Another way to get CBD into your mocktail is with CBD-infused seltzers. We enjoyed Queen City Hemp Seltzers in the past when they sponsored some of our Ellementa in-person gatherings. Try Blood Orange or Lemon Lavender on ice with a twist or add cut tropical fruit with their Passionfruit or Guava flavors. Explore your inner mixologist and create your own mocktail recipes with a few splashes of SexyAF Spirits. There's no harm experimenting!
There are many other CBD-infused mocktail mixes and add-ons on the market. Some companies may claim that the CBD in their non-alcoholic products will relax you or mellow you out. The truth about CBD is that it doesn't typically produce an immediate effect. CBD-infused mocktails can be a nice, flavorful supplement if you are taking CBD on a daily basis. Over time, you may experience less anxiety and less inflammation since quality CBD can reduce both.
While you can't get drunk or high if you take too much CBD, you can get intestinal upset, so don't go overboard. Start with less CBD than the product instructions call for and work your way up. If you think you'll be having more than one or two drinks, reduce the amount of CBD per drink. Staying at or under 30mg a day of CBD is considered a supplemental, non-therapeutic dose.
The CBD is a nice addition to any mocktail, but the real health benefit is from consuming less alcohol. No more hangovers.
Happy Mixing!
https://ellementa.com/wp-content/uploads/2021/04/kobby-mendez-xBFTjrMIC0c-unsplash-scaled.jpg
1213
2000
Aliza Sherman
https://ellementa.com/wp-content/uploads/2019/04/Elleflower-Text-Right-Header.png
Aliza Sherman
2021-04-14 13:25:52
2021-07-26 08:29:26
CBD Mocktails for Your Health