REVIEW: Everyday Rebel CBD Bath Salts

The package of Everyday Rebel 100mg CBD bath salts arrived just in time.
PMS was making my back ache, arthritis was killing my hips, and my overly ambitious self had pulled an abdominal muscle at my very first "boot camp" exercise class just days before. Isn't middle age grand?
I was in serious need of R&R, and with four kids, the bathtub is basically the only place I get it.
Here's my take on Everyday Rebel CBD Bath Salts.
The Packaging
The Everyday Rebel brand's two color packaging is at once adorable and sophisticated. The bath salts pouch features a silhouetted graphic of woman in a tiny clawfoot bathtub against a cool teal background and the words "Chill with Attitude" above her dainty pointed toe.
The bag is eight ounces with 100mg of CBD. That's enough bath salts for two full baths at 50mg of CBD per soak and comparable to most of the other bath products I've seen on the market.
The product texture was different from what I expected when I opened the package. I was envisioning the dry, course variety like the scented epsom salts I buy at the drugstore. These bath salts felt damp because of the oils in them. They didn't feel oily, mind you, but more like wet sand.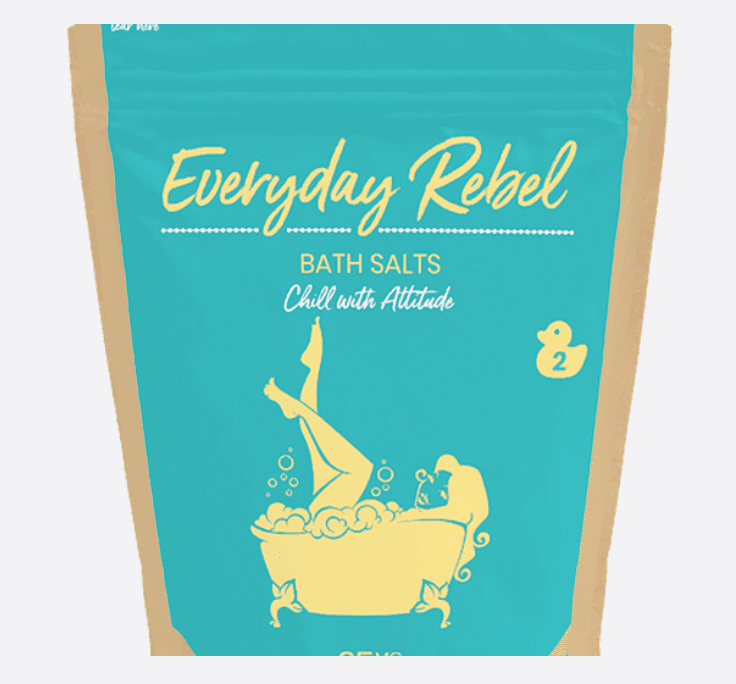 The Experience
I turned on the hot water, gathered some magazines from my living room table that I've been meaning to read for months, and locked the bathroom door.
It's me time.
Next, I poured half the bag of Everyday Rebel CBD Bath Salts (50mg CBD) into my bath and prepared for my transformation from a grouchy, 42 year old in pain to a relaxed, well-read, vibrantly chill lady with attitude, just like the graphic on the packaging. 
It was a joy to sink into warm water filled with all those moisturizing oils. I don't think I can go back to the dry epsom salt I was buying at the drug store, y'all. I read my two-month old magazines in a luxurious bath filled with silky soft water. It was heavenly.
Instructions
The instructions on the Everyday Rebel CBD Bath Salts packaging says that to get the maximum results of the CBD infusion you should soak for at least 20 minutes. I was able to read three long-form magazine articles in the tub before my children started banging on the door, so I think I got the full effect, but honestly would have liked to have spent an additional 20 or so minutes more reading and relaxing in that heavenly soft water.
Baths are super relaxing so I'm not sure I can say definitively that these CBD-infused bath salts made me any more relaxed than a non-infused bath, but what I can tell you is that my aches and pains were less pronounced and my skin was silky soft. I'm looking forward to using the rest of the bath salts.
Next time, I need to make sure the kids are at their friends' houses before sinking into another Everyday Rebel bath experience. My body will thank me and honestly, I have a lot of magazines to catch up on!
Check out Everyday Rebel CBD Bath Salts.
Review Summary
Products are rated on a scale of 1-4.
Packaging


Instructions 

Experience 

Effectiveness 

https://ellementa.com/wp-content/uploads/2019/05/bathroom-2460377_1280.jpg
850
1280
Melissa Fierce
https://ellementa.com/wp-content/uploads/2019/04/Elleflower-Text-Right-Header.png
Melissa Fierce
2019-05-15 09:38:35
2020-09-17 10:52:07
REVIEW: Everyday Rebel CBD Bath Salts