Day of the Show Prep
Readying the space:
We usually get into a space half an hour to an hour prior to the Gathering. Set up should be fairly quick and efficient, depending on your space.
Here are some things you need:
Registration Table: Set it up at the entrance to the space to greet women and direct them.
Sponsor Table: You will need a separate table for sponsor products and materials. This is a feature of all levels of sponsorship.
Giveaway Space: Display sponsor giveaways either on the registration table (optimal) or at an additional table with a bowl, pieces of paper and a pen for women to submit their names. This can be the sponsor table, if limited in space.
Take photos of all sponsor displays so we can see how their products and materials were displayed. If there is a giveaway, get permission to take a photo of the winner with the prize. Email photos to

[email protected]

.
Refreshments Table: Use a table or counter if you are supplying light refreshments, plates, napkins and cups as needed. (This is your option)
Seating: Depending on the size of your attendance, you can set chairs up in a circle, semi-circle or theatre seating. Seating arrangements can influence the "vibe" of your Gathering.
Banner/Signage: We will send a vinyl banner to hang up or stick to the front of a table or use as a "tablecloth." Consider placing it at the registration table when people enter or use as a backdrop behind your experts or look for another suitable place.
Marketing Materials on Seats: We've found that women are more likely to take marketing materials when they are placed on seats rather than stacks on tables. This is also handy when you do opening introductions and thank sponsors – you can draw attention to brochures, discount coupons, resource lists, etc.
Checklist for Venue Set-up
Registration Table

Giveaway items and bowl with papers/pen

Email list sign up sheet and pen

Refreshment table with napkins, cups, plates

Seating (check your attendance count in advance to arrange sufficient seating)

Banner and signage

Sponsor tables (if needed)

Market materials on seats

Take "before and after photos" if you have time particularly to share with sponsors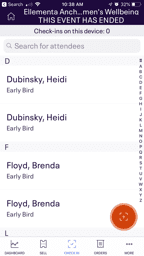 Before Start: Guest Check-in
Use Eventbrite App to Check-in Guests:
Use an iPhone, Android Phone, iPad, or Android tablet with wifi or cellular with the Eventbrite app to check people in. You can download the app here: https://www.eventbrite.com/l/Organizer-check-in-app/
Login to Eventbrite with your credentials. This is what you use to track ticket sales and was sent to you by Eventbrite when you were onboarded. If you don't remember the password, go to eventbrite.com and reset it.
Click CHECK IN icon on bottom & slide right on their name or scan their printed ticket by clicking red circle bottom right.

Taking Cash
If a woman wants to pay by cash, make sure to get her email address and share it with Ellementa so you can invite her to future Gatherings! Use the sign in sheet!
You cannot process credit cards at this time, but if you find your attendees usually do not register in advance and prefer to pay by credit card, please let us know at [email protected] so we can proceed with a different plan.
You can also offer that women pay via PayPal to this email address ONLY:

Housekeeping Announcements
Introduce Ellementa, introduce yourself, introduce your sponsors (you will be informed by Leader Support  if THEY get to introduce themselves at opening), and your guest expert(s) if you have any. Also go over brief house rules:
This is a non-consumption event, please be respectful of your neighbor's comfort level with cannabis.
Nothing you hear at Ellementa Gatherings should be taken as medical advice.

We aim to create a comfortable and welcoming space for women at all levels of experience with cannabis. Please be kind and respectful.

There are no "dumb" questions so feel free to ask anything. Everyone is here to learn and share with one another.

We encourage every woman to share her story based on her comfort level. In sharing, we not only empower others, but we empower ourselves.
If your venue has other housekeeping requests, please share them at the start of the evening.
TIPS:
If someone in attendance tries to sell their product or service but is not a Gathering sponsor, politely invite them to become a sponsor at a later date. Let them know that out of respect to the current sponsors, we ask that they refrain from selling on site. They are welcome to hand out cards.
If things get emotionally charged as women share their stories, acknowledge the emotions and remind the group that we're an informational and educational Gathering. Offer to take a break, encourage everyone to breathe deeply, stand up, move their bodies and regroup before continuing. Gatherings are not therapy sessions.