4 CBD Oils for a Stress-Free Life
You're probably hearing a lot about CBD and wondering if it is something you should be taking.
We can't tell you what to take, but we can tell you that we've tried a lot of CBD products to date, and we provide reviews and recommendations based on our experiences and understanding of what constitutes "quality."
CBD companies are not mandated to do testing on their products, but we prefer ones that invest in third party validation. These tests help prove that the products have the amount of CBD in them that they claim and also check for toxins including heavy metals, mold, and pesticides.
While any health supplement you use should be discussed with your doctor, research is showing that CBD can address a number of health issues and conditions. More research to fully understand the benefits of CBD, however, Project CBD provides a list of potential uses along with links to some of the research available including relief from anxiety and stress as well as reduction of surface and systemic inflammation.
And of course, a supplement alone cannot produce a stress-free life, but when you have good health, stress is reduced. When you take a supplement like CBD that has neuro-protective qualities and helps reduce stress and get better sleep, that's a good start!
Below, we've listed some of the CBD oil products we personally like to give you a sense of the variety that is out there.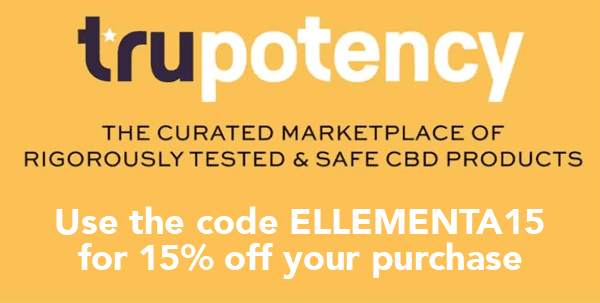 We also recently partnered with TruPotency, a company that puts CBD products through rigorous third-party testing in order to identify the ones that they'll feature on their site. You can peruse their recommended – and carefully vetted – oils (Global Xtracts, Plant People Co., Populum, Medterra, and NanoPharm) for that added assurance that you know what you're getting and ingesting. NOTE: We haven't tried any of these brands yet but will report back when we do.
What we like about Geovana's products is that they are specially formulated with women in mind. They carry a Menopause formula with Organic Evening Primrose Oil, Organic Peppermint and Organic Clary Sage; PMS formula with Organic Evening Primrose Oil, Organic Clary Sage Essential Oil, and Organic Cramp Bark Extract; and a general Women's Health formula with Organic Evening Primrose Oil.
We've just started testing Stratos products. So far, we like the peppermint flavor profile but especially appreciate the potency and the choice of either full spectrum or isolate: 1000mg or 500mg of Full Spectrum CBD and the option for 1000mg or 500 mg of CBD Isolate. The full spectrum extract contains other cannabinoids, terpenes, flavonoids and fatty acids and according to cannabis physicians we've spoken with, keeping the plant compounds together results in greater therapeutic value. Both versions use chemical-free carbon dioxide extraction for purity. According to Stratos, they process their CBD oil with "high shear technology" to reduce the size of cannabis molecules for faster uptake. Stratos CBD tinctures are sugar-free, gluten-friendly, vegan, fat-free and free of wheat, soy, nuts, eggs and dairy. Plus they are not tested on animals.
Hands down, Vital Leaf crafts some of the best tasting CBD oil tinctures we've tried. Both use solvent-free, high-potency, full-spectrum phytocannabinoid-rich hemp extract in organic coconut-derived MCT (medium chain triglyceride) oil. The Chocolate Mint flavor contains the Chinese medicinal herb, Lo Han Guo, also known as monk fruit, and pure, organic, wildcrafted extracts of cacao and Oregon peppermint. The Rose Vanilla Cardamom flavor also contains Lo Han Guo/monk fruit along with pure, organic extracts of rose, cardamom, and vanilla bean. Non GMO, gluten free and vegan.
RESET has an interesting product featuring a "Nano-liposomal delivery system" for "greater bioavailability" or faster absorption. While we're advocates of extracting from the full hemp plant and remaining as close to the natural plant as possible, for some, faster absorption could be helpful. The flavor is fresh and minty and texture of this tincture is far less oily than most CBD oils, a plus for anyone put off by a thicker oil. Double double tested to give you confidence in its quality.
As with all health supplements, consult your doctor before taking any, especially if you are on other medications as CBD can interact or interfere with meds. And as we always recommend: Start Low and Go Slow. Start with less than the recommended amount on the label because everyone's bodies are different. Keep track of what you take, how much you take and how you feel over time to find your optimal dose and frequency.